The Graduate Record Examination General Test (GRE) is for college graduates or soon-to-be graduates who are planning to attend graduate school or business school. GRE scores are used by admissions departments to be included in application packages and can also be used to support scholarship applications.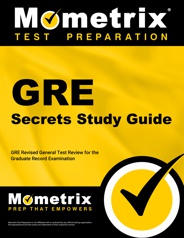 Prepare with our GRE Study Guide and Practice Questions. Print or eBook. Guaranteed to raise your score. Get started today!
The exam requires the test taker to think the way they would have to in graduate or business school and is a way to determine whether he or she is prepared for graduate work. The test can be taken on a continuous basis at any time throughout the year for the computer-based exam, although paper exams are only available on a limited basis.
The revised General Test measures verbal reasoning, quantitative reasoning, critical thinking, and analytical writing skills. The questions that are asked are not related to a specific field of study but are important for those planning to enter a wide variety of graduate programs, so test takers in any given field will not have an advantage of any kind over those in other fields.
The writing section contains two separately timed tasks totaling 60 minutes, the verbal reasoning section contains two 30-minute sections, and the quantitative reasoning section contains two 35-minute sections.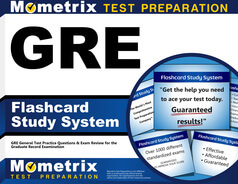 GRE Flashcards. Proven GRE test flashcards raise your score on the GRE test. Guaranteed.
Free GRE Practice Test
GRE FAQ
A
The GRE is used to evaluate your readiness for an advanced degree program. It tests your critical thinking, analytical writing, and verbal reasoning skills.
Q
What does the GRE test consist of?
A
The GRE has three sections. They are Analytical Writing, Verbal Reasoning, and Quantitative Reasoning.
Q
Is the GRE test difficult?
A
It is considered to be more difficult than the ACT/SAT. The vocabulary is challenging and the math problems are of a higher level.
Q
What is considered a good score on the GRE?
A
A good score on the GRE depends on the graduate program you are trying to get into. It is generally accepted that a good score on the verbal and quantitative reasoning tests is anything above 152. For the Analytical writing section, a good score is around 3.5.
Q
What is a perfect score on a GRE?
A
A perfect score on the GRE would be 170 for the Verbal and Quantitative reasoning sections and 6 for the Analytical writing section.
Q
How much does it cost to take the GRE?
A
The GRE costs $205 for people testing in the U.S. In other locations, the test costs varies.
Q
What is the highest score on the GRE?
A
The highest score on the GRE would be 170 for the Verbal and Quantitative reasoning sections and 6 for the Analytical writing section.
Q
How many times can you take the GRE?
A
You can take the GRE once every 21 days. You may do this up to five times within any continuous 12-month period.
Q
Can you fail a GRE test?
A
Technically, no. Once you receive your scores, it is up to you whether or not you send those scores to grad schools.
Q
What is the GRE score required for Harvard University?
A
On average, the GRE scores of students who have been accepted to Harvard range from 155-170.
Q
How long does it take to prepare for the GRE?
A
Generally, people will spend around 2-3 months studying and preparing for the GRE.
A
The GRE is a test for students who plan on attending grad school.
Q
How long is a gre good for?
A
Your GRE scores are good for five years after you've taken the test.
Q
Can you use a calculator on the GRE?
A
Yes. However, you may not bring your own calculator. There will be an onscreen calculator for online test-takers and a physical one for in-person test-takers.
Q
How do I get a GRE fee waiver?
A
To get a fee waiver for the GRE, you must first contact your financial aid office to see if you qualify. If you do qualify, you will receive a certificate with instructions on how to get your fee waiver.
Q
Is the GRE easier than the GMAT?
A
It depends on the specific skillset of the student taking the test. Certain aspects of each test could be seen as harder than the other.
Q
What is the average score for the GRE?
A
The average score for the GRE is around 150-152.
Q
Is it best to answer all questions on the GRE?
A
Yes. There will be no point deductions for wrong answers.
A
Yes. There are two 30-minute sections and two 35-minute sections.
About the GRE Test
Registering for the GRE is most commonly done online at the website of Educational Testing Services (ETS). ETS offers an additional search service not commonly found from other organizations that provide testing services. If, when registering for the GRE, a test-taker's profile matches that of participating institutions, information about those institutions will be sent to the test taker (with his or her consent). ETS offers the service as a way to potentially broaden a test taker's school search and include it as part of the search programs that may not have been otherwise considered.
The cost for the GRE General Test is $185. There are a variety of other fees that may be incurred, such as for late registration, rescheduling, changing the testing center, and other changes. Included in the registration fee is a software package to help prepare for the General Test, a Practice Book, Math Review materials, and Math Conventions materials. Also included in the registration fee is score reporting for up to four institutions. Test takers can choose to send either the more recent score or send scores from all tests administered in the previous five years. For schools that are selected for score reporting after testing day, the fee is $25 per school.
Other scoring services are also available. Test takers can choose to receive their final score by phone in advance of the final scores being sent for $12, request a review of the scores from the verbal reasoning and quantitative sections for $50, or request a review of the score from the Analytical Writing Measure for $55. Additionally, a Question-and-Answer Review Service is available that allows test takers to review the verbal reasoning and quantitative reasoning questions that were missed. Review sessions are available at testing centers approximately 30 days after the test date. Two hours are given to complete the review. Finally, a new feature for the GRE is a pilot program to determine if the exam can play a role in employment decisions. As a result, GRE test results can be sent to employers for $25 per report for the first time.
Aside from the SAT and ACT, the GRE may be the standard test for which the most review materials are available for purchase from a plethora of businesses and organizations. In addition to the free review services that come with the price of registration, test takers can purchase an additional guide from ETS as well as a mobile app that includes actual former test questions that provide answers and explanations.
On the day of the exam, the test administrator will provide test takers with scratch paper. Personal paper may not be taken into the exam and scratch paper may not be kept once the exam is complete. An optional 10-minute break is provided after the third section of the exam. Additional breaks can be taken by test takers, though the clock will not stop. Calculators are not permitted in the testing room. At the conclusion of the exam, test takers are given the option to either cancel all scores or report all scores to the pre-selected institutions. If scores are reported, only then will test takers be allowed to view unofficial scores for both the verbal reasoning and quantitative reasoning sections of the exam.
The verbal reasoning and quantitative reasoning section scores are reported on a scale from 130 to 170 in one-point increments. The Analytical Writing score is reported on a scale from zero to six in half-point increments. Those who took the exam prior to August 1, 2011 had their scores reported on a scale from 200 to 800. Future score reports for those exams will include both the original scores as well as estimated scores on the 130-170 scale. Taking numerous GRE practice tests is recommended for test day success.
Online GRE Prep Course
If you want to be fully prepared, Mometrix offers an online GRE Prep Course. The course is designed to provide you with any and every resource you might want while studying. The GRE Course includes:
Review Lessons Covering Every Topic
450+ GRE Practice Questions
More than 600 Digital Flashcards
Over 230 Instructional Videos
Money-back Guarantee
Free Mobile Access
and More!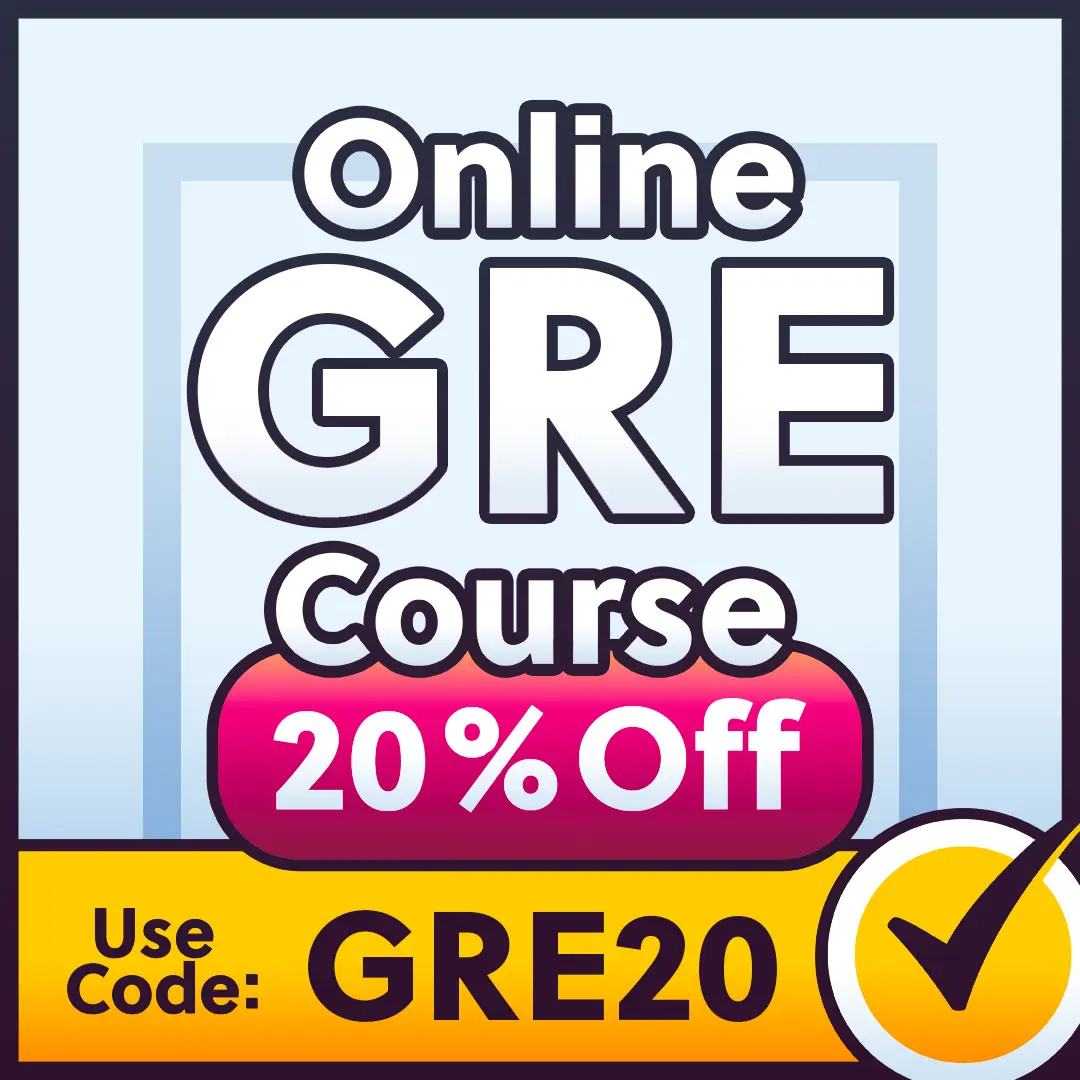 The GRE Prep Course is designed to help any learner get everything they need to prepare for their GRE exam. Click below to check it out!
GRE Study Guide
Explore our free GRE review provided by Mometrix. Check out our premium GRE study guide to take your studying to the next level. If you benefit from these materials, just click the link below! To compliment our GRE book, we also offer extensive GRE flashcards for even more GRE test prep help. We hope you enjoy our products! Your purchase helps us make more great, free GRE certification content for test-takers just like yourself.