The chemical processes test is one section of the Pharmacy College Admissions Test (PCAT) which is required by nearly every pharmacy degree program in the country. While this is far from the only factor considered by the admissions office, it is an important one. The better you do on this exam, the stronger your overall application will be.
Q
When Should I Register for the PCAT Exam?
A
The exam is offered six times per year at Pearson VUE testing centers around the country. Registration opens about four months before the testing window you are registering for. The latest possible time to register is about one month before the testing window.
However, you will have to pay a late fee if you wait that long so it's recommended to take care of registration as soon as possible. The earlier you register, the better your chances of being able to pick the date that works best with your schedule.
Q
How Long Will I Have to Complete the Chemical Processes Section of the PCAT?
A
You will have just 45 minutes to answer all 48 questions on the chemical processes section of the PCAT. Once that time is up, you won't be able to return to the section again so it's important that you work on your speed and accuracy so that you can do your best even under these time constraints.
Right after you complete the chemical processes section, you will be given a 15 minute break. Even if you don't feel like you need it, use it. If anything, get up and just pace around the room for 15 minutes. This will get your blood flowing again which will help you maintain concentration during the remaining sections of the exam.
Q
Which Topics Will Be Covered in the Chemical Processes Section?
A
You will need to answer 48 questions about various important topics in the field of chemistry. Below is a brief outline of what kind of material the questions will cover:
General Chemistry

Atomic theory
Chemical bonding
Reactions and reaction mechanisms
Kinetic theory
Solutions
Nuclear chemistry, radioisotopes

Organic Chemistry

Structure and properties
Reactions of organic compounds

Basic Biochemistry Processes

DNA and RNA
Lipids
Proteins
Q
How Is the PCAT Chemical Processes Section Scored?
A
The chemistry section of the PCAT will be given a scaled score somewhere between 200 and 600. Your total PCAT score will be the average of the scores you got for each section. When the school you are applying to receives your score report, they will be able to see how you performed on each section as well as your overall score. So you definitely don't want to neglect any weak subjects even if you think your strengths will more than make up for it in bringing up your overall score.
Your score report will also show your percentile ranking. This number represents how well you did compared to other test takers. So, if your percentile rank is, say, 75, this means you performed better than 75% of all test takers. Finding out the average percentile ranking of students admitted to the program you are applying to can be more useful than finding out the scaled score since the actual score associated with a given rank can change from year to year. For example, a score of 430 might have put you into the 90th percentile last year but this year, it might only put you in the 85th percentile.
Q
How Can I Best Prepare for the Chemical Processes Section of the PCAT?
A
It is important to take some time to review all the important concepts in general chemistry, organic chemistry, and basic biochemistry even if you feel confident in your understanding of these subjects. The most efficient way to do that is to use a study guide like the Mometrix Study Guide which has been tailored specifically to the PCAT.
Using this guide, you'll be able to review all the essential concepts that are most likely to appear on the test. This will save you from wasting time reviewing material that you might not even get tested on. The explanations of the concepts are written in clear, easy to understand language by a team of experts who are both familiar with the PCAT and highly educated in chemistry.
For the best results, combine the guide with the Mometrix Flashcards. This set of cards provides a more interactive and engaging way to review the material. Flashcards are also one of the best ways to absorb a large amount of information in a limited amount of time because they're tailor made to help you with your memorization and recall skills. Plus, you can take them with you anywhere so you can squeeze in study sessions throughout the day whenever you find time.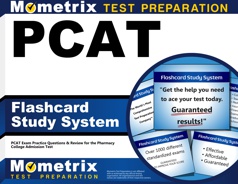 PCAT Flashcards. Proven PCAT test flashcards raise your score on the PCAT test. Guaranteed.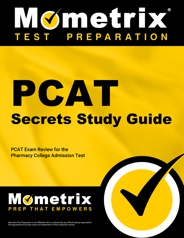 Prepare with our PCAT Study Guide and Practice Questions. Print or eBook. Guaranteed to raise your score. Get started today!