Reading comprehension skills are fundamental to your success in any pharmacy degree program. So doing well on the critical reading section of the Pharmacy College Admissions Test (PCAT) is an important indicator of how well-equipped you will be to complete the program you are applying to.
Q
What Do I Need to Register for the PCAT?
A
You can complete the entire registration process online but you will need to have the following items with you:
The ID that you plan to bring with you on exam day.
A credit or debit card to pay the $210 exam fee.
A list of up to three institutions you would like your official score report to be sent to.
You also need to know which testing window you want to register for and then choose at least three possible dates within that window to take your exam. While you only schedule just one date, having three possible dates ready will make sure you already have alternatives picked out in case your first choice is already fully booked.
Registration opens about four months before the testing window and it's highly recommended that you register as early as possible to make sure you get the date that you prefer while still leaving yourself plenty of time to study and fully prepare for the exam.
Q
What Will Test Day Be Like?
A
The critical reading section of the exam is the first section after your break. Because success in this section depends on your ability to focus on a text and absorb as much information and details as possible in the limited time, it's important that you take advantage of the break right before to recharge and prepare for yourself for intense and sustained concentration.
You will have just 50 minutes to read through six passages and answer eight questions about each one. That's a total of 48 questions. So you definitely need to come to this exam with a strategy ready to go to make sure you can get through it all quickly and accurately. Make sure you arrive at least 30 minutes before your exam is actually scheduled to start so that you will have enough time to check in and familiarize yourself with the testing center.
Q
What Will Be Included in the Critical Reading Section?
A
The critical reading section is made up of six reading passages, each followed by eight questions which will test your comprehension, analysis, and evaluation skills. Here is a short overview of the kind of skills you will need to demonstrate on this section of the PCAT:
Comprehension

Understanding words in context
Recognizing main ideas and supporting details
Drawing conclusions

Analysis

Inference and interpretation
Relationships between ideas
Author's purpose
Author's tone
Facts and opinions
Rhetorical strategies

Evaluations

Making reasoned judgements
Recognizing bias
Support in an argument
Author's conclusions and thesis
A
Each section of the PCAT is given a scaled score ranging from 200 to 600. The average of each of your individual section scores will then be used as your overall, composite score. This means your stronger subjects can help to bring your total score up but also that your weaker subjects can hurt your overall average. So it's important to set a minimum target score that you apply to each section.
There is no mandatory minimum since this is an entrance exam. However, 400 is about average. Aiming for a score of 430 or better will likely put you in the 90th percentile which will make you fairly competitive for most programs. With that said, you definitely need to find out what the typical PCAT scores are for students admitted to the program you are applying to and use that as your target.
Q
How Should I Prepare for the Critical Reading Test on the PCAT?
A
To do well on the critical reading section of the PCAT, you will want to focus on strengthening your reading comprehension and analysis skills. More importantly, you will want to strengthen those skills in the context of the kinds of passages you will be reading on the exam.
A great tool for doing that is the Mometrix Study Guide. This guide includes a comprehensive overview of all the subjects included on the PCAT. For the critical reading section, it provides sample reading passages along with tips and strategies for interpreting, analyzing, and evaluating them effectively. You will also get sample questions so that you can practice answering the same kinds of questions you'll be asked on the exam. In addition to the guide, you should also use the Mometrix Flashcards. These will help you strengthen your vocabulary and provide a great way to increase your reading speed and comprehension skills.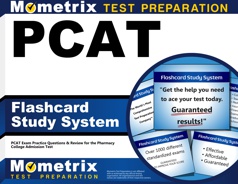 PCAT Flashcards. Proven PCAT test flashcards raise your score on the PCAT test. Guaranteed.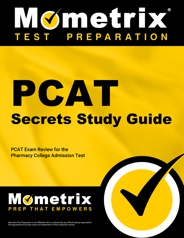 Prepare with our PCAT Study Guide and Practice Questions. Print or eBook. Guaranteed to raise your score. Get started today!