In order to receive a specialty certification for providing care to acutely ill adult patients, progressive care nurses must pass the Progressive Care Certified Nurse (PCCN) examination. This examination has been developed by the American Association of Critical-Care Nurses in order to guarantee that those charged with providing care have met the minimum competency for their job.
The PCCN exam is divided into two main sections: clinical judgment (80% of the exam) and professional caring and ethical practice (20%).
The content of the clinical judgment section can be further broken down as follows: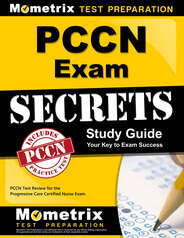 Prepare with our PCCN Study Guide and Practice Questions. Print or eBook. Guaranteed to raise your score. Get started today!
cardiovascular (37%)
pulmonary (13%)
endocrine (4%)
hematology/immunology (5%)
neurology (4%)
gastrointestinal (5%)
renal (6%)
multisystem (6%).
The content of the professional caring and ethical practice section can be further broken down as follows: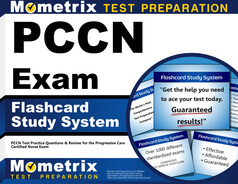 PCCN Flashcards. Proven PCCN test flashcards raise your score on the PCCN test. Guaranteed.
advocacy/moral agency (2%)
caring practices (4%)
collaboration (4%)
systems thinking (2%)
response to diversity (2%)
clinical inquiry (2%)
facilitation of learning (4%)
The PCCN examination consists of 125 multiple-choice questions and must be completed within 2 and a half hours. 25 of the questions on the test do not count towards the candidate's score, but are used to develop future versions of the exam. Score is determined by the number of questions answered correctly; there is no deduction for answering a question incorrectly.
A computerized score report will be available to the candidate immediately after the exam, and a hard copy of the report will be mailed 6 to 8 weeks later. If the candidate has passed the exam, proof of certification will accompany the hard copy.
The PCCN exam is administered by Applied Measurement Professionals five days a week, all year long. Nurses who are interested in taking the exam should visit the AMP website. In rare cases, individuals may be allowed to take a paper-based version of the exam; for more information, see the AACN website.
Click Here for CCRN Practice
PCCN Certification Exam
PCCN Study Guide
Explore our free PCCN review provided by Mometrix. Check out our premium PCCN study guide to take your studying to the next level. If you benefit from these materials, just click the link below! To compliment our PCCN book, we also offer extensive flashcards for even more PCCN exam prep help.
We hope you enjoy our products! Your purchase helps us make more great, free PCCN certification content for test-takers just like yourself.