If you don't need to go through our Phlebotomy online course, click here for basic information about the Phlebotomy Certification Organizations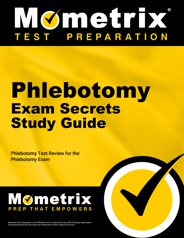 Prepare with our Phlebotomy Study Guide and Practice Questions. Print or eBook. Guaranteed to raise your score. Get started today!
The Phlebotomy Exam is the tool used to certify a qualified applicant seeking a profession as a phlebotomy tech. Most hospitals and other employers require phlebotomy technologists with the CPT credential, as it indicates proven expertise in the necessary knowledge and skills.
The test is based on both clinical abilities and the test taker's knowledge of pertinent topics. Eligibility for the exam requires a minimum of 1 year's worth of experience in the field, or completion of a phlebotomist training program from a recognized institution such as the NCPT, NCCA, or NHA.
We have provided the Phlebotomy resources and the tools. The rest is up to you- the best teacher is the person who knows you best- YOU!
The test itself costs around $75 – $90. On the exam, testers will find 6 categories into which the material is divided. These categories are: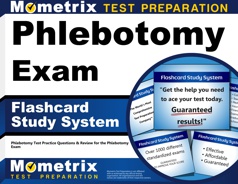 Phlebotomy Flashcards. Proven Phlebotomy test flashcards raise your score on the Phlebotomy test. Guaranteed.
(I) Quality and Professional Issues
(II) Infection Control and Safety
(III) Orders and Equipment Selection
(IV) Patient ID and Site Preparation
(V) Collections
(VI) Problems and Corrections
There are about 100 – 125 questions overall, and the exam period lasts about 3 hours.
Take the self assessment module quiz below (make notes of your scores and remember which revealed significant gaps in your learning):
Self-Assessment Module
Phlebotomy Study Guide
Explore our free Phlebotomy review provided by Mometrix. Check out our premium Phlebotomy study guide to take your studying to the next level. If you benefit from these materials, just click the link below! To compliment our Phlebotomy book, we also offer extensive Phlebotomy flashcards for even more Phlebotomy test prep help. We hope you enjoy our products! Your purchase helps us make more great, free Phlebotomy certification content for test-takers just like yourself.