The Praxis CASE Reading Exam is required by most states for those who want to become certified teachers of any grade level. It measures the essential skills of reading comprehension at a college level.
What Do I Need to Register?
The reading exam is offered continuously which allows you to take the test whenever is most convenient for you. With that said, you should schedule your exam at least four weeks in advance to allow for sufficient time to prepare.
During the registration process, make sure you write your name exactly as it appears on the government-issued ID that you'll be bringing with you on test day. Also, be prepared to pay the reading exam fee of $90.
If you already know you'll need to take the math and writing exams in addition to the reading exam, you can choose the Praxis CASE combination exam which costs just $150 for all three subjects and allows you to complete everything in a single five hour appointment. However, try to give yourself at least 12 weeks to fully prepare for all three subjects.
What Topics Are Covered?
There are 56 questions total on the Praxis CASE Reading Exam. The questions are divided into three categories: key ideas and details; craft, structure, and language skills; and integration of knowledge.
Key ideas and details: 17-22 questions assessing your ability to engage in close reading, interpret explicit meaning as well as make logical inferences, identify gaps and inconsistencies in the content, identify central ideas and themes, determine how the text is informed by its central ideas, and determine how or why characters in the text behave and relate to each other the way that they do.
Craft, structure, and language skills: 14-19 questions assessing your ability to interpret words and phrases, determine the author's attitude, understand how specific word choices shape meaning or tone, identify how a text is organized, comprehend vocabulary at a college level, and understand figurative language and nuance.
Integration of knowledge: 17-22 questions assessing your ability to analyze content, identify and evaluate arguments or claims, and compare how two or more texts deal with the same themes.
Basically, in order to prepare for this exam, you'll need to work on your ability to read a text, understand its main idea or theme and explicit meanings, and then extend that understanding into inferences that aren't directly stated in the text but can be interpreted from it.
What Should I Expect on Test Day?
In order to avoid delays or problems, you should show up to the testing center 30 minutes before your appointment with the following:
Your printed exam admission ticket
An official, government issued ID (such as a passport, state ID, driver's license, or military ID),
A second form of ID (such as another government-issued ID, a student ID, or a confirmation letter from your educational institution),
No personal items (including no jewelry, accessories, electronics, or even pencils).
The exam is administered on a computer and any materials you will need to complete it will be provided for you. So leave everything except your IDs at home. You will have 85 minutes to complete the Praxis CASE Reading Exam. If you have to wear prescription lenses, your glasses will be inspected thoroughly before you can enter the exam room. In some cases, you may also need to go through additional steps to verify your identity including fingerprinting, biometric voice matching, videotaping, or signature comparison.
What About My Scores?
You may receive an unofficial score immediately after taking the exam but your official report will be sent to you 10-16 days after your test. The official score report provides a detailed outline of how you did, including whether you passed or failed, what your scaled score is, and how well you did compared to the average.
Since the minimum requirement differs between different states, there is no universal minimum required for certification. If you are unhappy with the score you received, you can schedule an appointment to retake the exam. Your new appointment must be at least 21 days after your most recent attempt and you will have to pay full price for it.
How Should I Prepare for the Praxis CASE Reading Exam?
To start, it's strongly recommended that you take a practice test in order to identify which areas of the reading exam will need the most work. You can then create a study schedule that focuses primarily on your weakest areas while leaving just enough room to refresh your skills in the areas you are already great at.
You can improve the different aspects of your reading comprehension skills by just reading a lot and then writing short summaries that outline the core idea of what you read as well as break down the key claims and information that make up the core idea. However, without the help of practice questions and a study guide, it'll be difficult to develop a study program that really targets the skills and expertise you'll need for the reading exam.
With a well-designed study guide, you can focus on the core skills that you'll be tested on while making yourself familiar with the types of questions you'll encounter on the exam. You'll get reading selections and practice questions that closely resemble what you'll see on the actual test so that come exam day, you'll already be well-versed in the kind of analysis and interpretation required.
If you also need to strengthen your vocabulary skills for the reading exam, you should consider getting a set of flashcards with some of the most common vocabulary words you'll encounter on the Praxis CASE Reading Exam. Vocabulary flashcards are the best tools for remembering a large amount of words and their meanings in a short amount of time. Combine flashcard sessions with study guide practice and your own reading exercises for the best results.
Due to our foreknowledge of the domains of this test, we have made sure that the Praxis Case Reading practice test will cover these topics thoroughly. When taking the Praxis Case Reading portion, you will have 85 minutes to finish the 56 questions.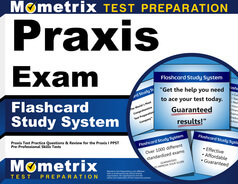 Praxis Test Flashcards. Proven Praxis test flashcards raise your score on the Praxis exam. Guaranteed.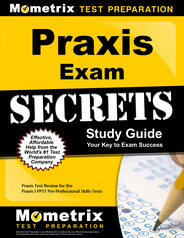 Prepare with our Praxis Test Study Guide and Practice Questions. Print or eBook. Guaranteed to raise your score. Get started today!