The Series 7 is an exam sponsored by the Financial Industry Regulatory Authority (FINRA). It measures the qualifications of a person to work in the financial industry as a general securities representative. FINRA was previously called the National Association of Securities Dealers (NASD).
In order to be considered for the Series 7, a person must by sponsored by a FINRA member, a SRO (Self-Regulatory Organization), or an investment exchange. The Series 7 assesses all areas of trading other than commodities and futures.
According to FINRA, the certification that results from the exam, "qualifies a candidate for the solicitation, purchase, and/or sale of all securities products, including corporate securities, municipal securities, municipal fund securities, options, direct participation programs, investment company products, and variable contracts."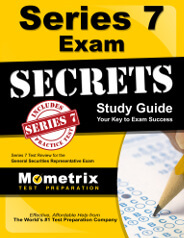 Prepare with our Series 7 Exam Study Guide and Practice Questions. Print or eBook. Guaranteed to raise your score. Get started today!
The first step is to find a sponsor. Applicants must have a sponsor in order to schedule an exam. This may mean taking a position which does not require an applicant to already have the Series 7. Often, a willingness to sponsor the Series 7 exam may be explicitly stated in a given employment ad.
The sponsoring organization must send a Uniform Application for Securities Industry Registration or Transfer (Form U-4) with FINRA. Forms filed without a sponsor will be rejected.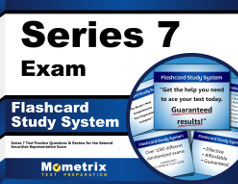 Series 7 Exam Flashcards. Proven Series 7 test flashcards raise your score on the Series 7 test. Guaranteed.
The exam is often a requirement for firms seeking membership with FINRA. It can also be a step toward taking more advanced FINRA exams.
The Series 7 exam contains 250 multiple-choice questions. It is divided into two parts that include 125 questions each. Participants are given three hours to complete each part. Each test has 10 questions that are not scored. At least 70% of the scored questions must be answered correctly to pass the exam.
Series 7 Self-Assessment Module
Series 7 Practice Test
Series 7 FAQ
Q
What does it mean to have a Series 7?

A
The Series 7 is a license administered by FINRA that entitles the holder to sell securities products of all types, excluding commodities and futures.
Q
How much does it cost for a Series 7?

A
The cost for taking the Series 7 exam is $305, according to FINRA.
Q
How do I get my Series 7?

A
To get your Series 7 license, you must be sponsored by a financial firm that is a member of FINRA. You must also take a Series 7 exam.
Q
How many questions are on the Series 7 exam?

A
There are 260 questions on the Series 7 exam, but only 250 are scored. 10 questions are experimental questions used by FINRA to improve future testing.
Q
What is a passing grade for the Series 7 exam?

A
You must score at least 72% to pass the Series 7 exam. This means you must answer at least 180 questions correctly.
Q
Do you have to be sponsored to take the Series 7?

A
Yes, you must be sponsored by a FINRA member firm to take the Series 7 exam.
Q
Do you have to have a bachelor's degree to take the Series 7?

A
You do not necessarily need a bachelors degree to take the Series 7. However, it is recommended as most firms will not sponsor you unless you have an undergraduate degree.
Click Here for Series Test Breakdown.
Series 7 Study Guide
Explore our free Series 7 review provided by Mometrix. Check out our premium Series 7 study guide to take your studying to the next level. If you benefit from these materials, just click the link below! To compliment our Series 7 book, we also offer extensive flashcards for even more Series 7 exam prep help.
We hope you enjoy our products! Your purchase helps us make more great, free Series 7 certification content for test-takers just like yourself.
Click Here for FINRA Series Tests