The General Securities Representative Qualification Examination, Series 7 (Series 7) is used to assess the knowledge, skills, and abilities required of entry-level General Securities Representatives. Series 7 is developed and maintained by the Financial Industry Regulatory Authority (FINRA). The Series 7 exam is one of the two exams required to obtain the General Securities Representative registration.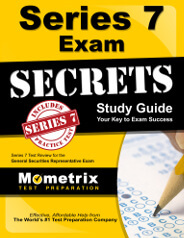 Prepare with our Series 7 Exam Study Guide and Practice Questions. Print or eBook. Guaranteed to raise your score. Get started today!
Eligibility
To be eligible for the Series 7 exam, a candidate needs to be associated with and sponsored by a FINRA firm or a self-regulatory (SRO) member firm.
Application and registration
Your sponsoring firm needs to complete and file the Uniform Application for Securities Industry Registration (Form U4). On Form U4, the sponsor requests the General Securities Representative position. The application fee is $245.00 and is paid at the time of application.
Once FINRA receives the Form U4 and application fee from the sponsoring firm, enrollment instructions are emailed to you. You have 120 days from receipt of the email to schedule your exam at a Prometric Test Center located near you. You can register online at the Prometric website or by phone, and you need to have your FINRA ID# available.
Test design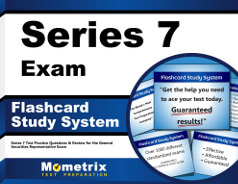 Series 7 Exam Flashcards. Proven Series 7 test flashcards raise your score on the Series 7 test. Guaranteed.
The Series 7 exam consists of 125 multiple-choice, computer-delivered questions. The exam is closed-book – reference materials are not permitted. In addition, there are ten questions on the exam that are not scored but used for validation. You have three hours and forty-five minutes to complete the exam. To help you budget your exam time, allow yourself approximately one and a half minutes per question.
In addition to knowing the duties and responsibilities of a general securities representative, you are expected to have an understanding of the rules and regulations governing your profession. The rules and regulations come from FINRA, the Securities and Exchange Commission (SEC), the Chicago Board Options Exchange (CBOE), and the Municipal Securities Rulemaking Board (MSRB).
The exam contains four major functions:
Function 1 – seeking business for the broker-dealer from customers and potential customers – 9 questions
Function 2 – opening accounts after obtaining and evaluating financial profile and investment objectives – 11 questions
Function 3 – provide information about investments, make suitable recommendations, transfer assets, and maintain appropriate records – 91 questions
Function 4 – obtain and verify purchase and sales instructions and agreements; process, complete and confirm transactions – 14 questions
Each function consists of tasks requiring specific knowledge to perform each function and task. You are expected to know and recall the rules and regulations specific to each function and task.
When you pass the Series 7 exam and the Securities Industry Essentials (SIE) exam, you are qualified to solicit, purchase securities products, sell securities products, and assess and sell variable contracts.
Test day
Allow thirty minutes to complete check-in procedures before your scheduled appointment. Check-in procedures include verifying your identification, taking your fingerprint, performing a security check, signing rules of conduct agreements, and storing your belongings in an assigned locker.
At your testing station, you are provided a four-function calculator; dry erase board and a dry erase pen. Noise-canceling headphones and tissues are available upon request. All materials provided to you are to be returned at the end of your test.
If time allows, review your work before submitting your answers for scoring. Once submitted, you cannot modify your test. Your test results are displayed on the computer screen and a printed copy of your pass or fail results are provided.
Score
Your score is the number of correct responses placed on an equating scale. The scaled score allows for standardization of standards across the board.
The passing score for the Series 7 exam is 72%. If you do not pass, your score report indicates "fail," and additional details about your exam are provided, including your overall exam score and performance in each function area.
You can take the exam 30 days after your first attempt, and you can take the exam three times before a 180-day waiting period is enforced.
Preparation
It is essential that you allow yourself enough time to study for the FINRA Series 7 exam. Using study aids can help you budget your time while ensuring you cover all the information that you need to know to be a successful General Securities Representative. The exam focuses on the nature of securities and financial instruments and places great weight on your ability to provide customers with accurate and usable investment information. A practical study plan will help you on your road to becoming a productive General Securities Representative.
Mometrix Test Preparation's study guide and flashcards are developed to systematically guide you through the content covered in the tested function areas. The study guide covers content areas, and essential skills essential for you to pass the Series 7 exam on your first attempt. The flashcards present the concepts you need to understand in an easy-to-use method that aids in not only retention but comprehension.
Series 7 FAQ
Q
What does it mean to have a Series 7?
A
The Series 7 is a license administered by FINRA that entitles the holder to sell securities products of all types, excluding commodities and futures.
Q
How much does it cost for a Series 7?
A
The cost for taking the Series 7 exam is $305, according to FINRA.
Q
How do I get my Series 7?
A
To get your Series 7 license, you must be sponsored by a financial firm that is a member of FINRA. You must also take a Series 7 exam.
Q
How many questions are on the Series 7 exam?
A
There are 260 questions on the Series 7 exam, but only 250 are scored. 10 questions are experimental questions used by FINRA to improve future testing.
Q
What is a passing grade for the Series 7 exam?
A
You must score at least 72% to pass the Series 7 exam. This means you must answer at least 180 questions correctly.
Q
Do you have to be sponsored to take the Series 7?
A
Yes, you must be sponsored by a FINRA member firm to take the Series 7 exam.
Q
Do you have to have a bachelor's degree to take the Series 7?
A
You do not necessarily need a bachelors degree to take the Series 7. However, it is recommended as most firms will not sponsor you unless you have an undergraduate degree.
Click Here for Series Test Breakdown.
Series 7 Self-Assessment Module
Series 7 Study Guide
Explore our free Series 7 review provided by Mometrix. Check out our premium Series 7 study guide to take your studying to the next level. If you benefit from these materials, just click the link below! To compliment our Series 7 book, we also offer extensive flashcards for even more Series 7 exam prep help.
We hope you enjoy our products! Your purchase helps us make more great, free Series 7 certification content for test-takers just like yourself.