The Test of Adult Basic Education (TABE) has a variety of uses in adult education. For those who are teaching adult education classes, TABE can be an assessment tool used in designing or tailoring programs to the needs of a particular group. The TABE can be used to prepare adult students for taking the General Education Diploma (GED) test.
The chief advantage of the TABE is that it is designed for small classroom use with adults, and can be administered and scored on computers within that setting. The TABE can be administered on local intranet, or it may be taken in an online version directly through the internet. It can also be given to students in the traditional paper format.
TABE tests encompass levels of difficulty extending from the 1st to the 12th grade. Each of the corresponding elementary or secondary school grade levels is subdivided into further levels of difficulty. The three chief content areas tested are reading, language use, and basic mathematics. The TABE also has a Spanish-language version.
The content of the test is generally consistent with basic education requirements of public schools across the nation. Fundamental skills tested on TABE include literacy assessment, fundamental mathematics concepts, and other language skills.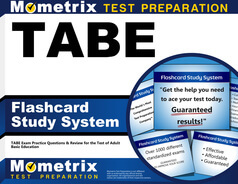 TABE Flashcards. Proven TABE test flashcards raise your score on the TABE test. Guaranteed.
In addition to elementary and secondary school testing programs, TABE testing versions have been developed to meet general basic education concerns for adults working or applying to work in certain occupations.
The TABE is an excellent training and preparation tool for the General Education Diploma (GED) examination. The TABE was developed with a view to marking a student's progress toward a self-set goal. In other words, the TABE presents an educational environment without the intimidation of potential failure.
No one "fails" the TABE; the test is used to determine the vital content areas in which the adult student requires additional assistance.
The TABE has been used in alternative school settings, military advancement training courses, union training programs, vocational skills programs, non-native English speaker programs, and in a variety of other settings.
Online TABE 11 & 12 Prep Course
If you want to be fully prepared, Mometrix offers an online TABE 11 & 12 Prep Course. The course is designed to provide you with any and every resource you might want while studying. The TABE 11 & 12 Course includes:
Review Lessons Covering All the Topics
600+ TABE 11 & 12 Practice Questions
More than 500 Electronic Flashcards
Over 230 Instructional Videos
Money-back Guarantee
Free Mobile Access
and More!
The TABE 11 & 12 Prep Course is designed to help any learner get everything they need to prepare for their TABE 11 & 12 exam; click below to check it out.