If you are preparing to take the TABE test, you realize that it is going to be a challenge. Every hour you spend preparing will help you get a better score.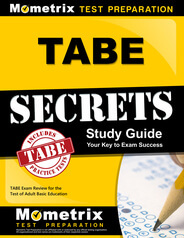 Prepare with our TABE Study Guide and Practice Questions Print or eBook. Guaranteed to raise your score.
Going back to college (or trade school or technical school) after being out of high school for several years or decades can be a daunting and bewildering experience. Juniors and seniors in high school have all kinds of people and resources to turn to when it comes to navigating the college application process: parents, teachers, guidance counselors, peers who are also applying, etc.
Older people hoping to start college later in life generally do not have access to these same resources; they are left to fend for themselves, and have to figure much of this stuff out on their own. One of the biggest areas of confusion is which test (or tests) a person must take before enrolling in college, which is where the TABE comes in.
So where does the TABE fit in? If you are confused, it is easy to understand why. After all, in the realm of tests related to college admissions, in addition to the TABE, there are the ACT test, the SAT exam, the COMPASS, the ASSET exam, CLEP tests, AP tests, GED tests, the CPAt test, and many more.
On top of this confusing number of exams, there is also a ton of paperwork and other essentials that must be taken care of when applying to school. It is easy to start feeling overwhelmed. However, the TABE is easy enough to understand once you discover what it is all about. Taking numerous TABE practice tests is recommended for test day success.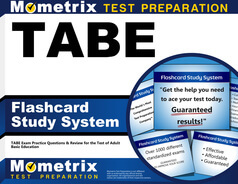 TABE Flashcards. Proven TABE test flashcards raise your score on the TABE test. Guaranteed.
Essentially, the TABE is a placement test. (The name stands for Test of Adult Basic Education.) It is used by trade schools, technical schools and some colleges to give them a good idea of what level of academic challenge you are ready to face. The test covers the basics of reading, English and math.
Based on your test scores, schools will decide if you are up to the challenge without further preparation, and if so, whether you can take basic, intermediate or advanced courses, or if you need remedial courses in some areas before taking on actual college credit courses, or if it might be best for you to wait until you have gotten better prepared to tackle college courses. There are other programs that might require you to take the TABE, such as GED prep classes and Adult Education programs.
One thing to keep in mind is that there is no "passing" score, as such. Every school or program will have guidelines and standards in place, and they will determine where your score places you based on those standards. Also, a low score does not necessarily mean that you can never go to college. It just means that you might have to put in some hard work to accomplish your goals.
TABE Practice Tests
TABE FAQ
A
The TABE (Test for Adult Basic Education) is used to evaluate a person's skill levels in reading, math, and English.
Q
Is the TABE test difficult?
A
The TABE is generally not considered difficult, especially if an adequate amount of studying is involved.
Q
What is the purpose of the TABE test?
A
The purpose of the TABE is to determine what your skills are in reading, math, and English.
Q
How long does it take to do the TABE test?
A
The "survey" test takes around 90 minutes to complete, and the "complete battery" test takes closer to three hours.
Q
Can you use a calculator on the TABE test?
A
Yes, you may use a calculator on the Applied Mathematics section of the test.
Q
How many questions are on the TABE test?
A
There are 195 questions on the TABE.
Q
What is the TABE test used for?
A
The TABE is used for evaluating where your skills are regarding math, reading, and English.
Q
What is the TABE test stand for?
A
TABE stands for Test of Adult Basic Education.
Online TABE 11 & 12 Prep Course
If you want to be fully prepared, Mometrix offers an online TABE 11 & 12 Prep Course. The course is designed to provide you with any and every resource you might want while studying. The TABE 11 & 12 Course includes:
Review Lessons Covering All the Topics
600+ TABE 11 & 12 Practice Questions
More than 500 Electronic Flashcards
Over 230 Instructional Videos
Money-back Guarantee
Free Mobile Access
and More!
The TABE 11 & 12 Prep Course is designed to help any learner get everything they need to prepare for their TABE 11 & 12 exam; click below to check it out.
TABE Test Study Guide
Explore our free TABE test review provided by Mometrix. Check out our premium TABE study guide to take your studying to the next level. If you benefit from these materials, just click the link below! To compliment our TABE test book, we also offer extensive flashcards for even more TABE test prep help. We hope you enjoy our products! Your purchase helps us make more great, free content for test-takers just like yourself.