The TABE test is commonly used by some colleges and trade and technical schools to assess a student's skills and aptitudes in English, math and reading. The student's academic level, as assessed by the TABE test, serves to provide insight into how the student will perform within a classroom or workforce setting as they enter college or a career.  The TABE test is designed to align with College and Career Readiness (CCR) standards and complies with Workforce Innovation and Opportunity Act (WIOA) regulations.
Q
Who Administers the TABE Reading Test?
A
CTB/McGraw-Hill administers the TABE assessment, which includes the TABE reading test. The assessment is given throughout the United States in various locations, including:
4-year colleges
Community colleges
Private testing centers
Technical colleges
The TABE test is often part of requirements for college admission or employment. If the student is being asked to take the TABE test, they need to speak with their college advisors, counselors or supervisors. They will be able to provide guidance to register for the test and select a testing location. They should contact the public school system for more information about how and where to the TABE assessment if they are not taking the test to fulfill a requirement.
Each testing location will have different schedules, which will determine when they can register for a time slot for administration of the assessment. Most locations follow a specified schedule or have time slots available on certain days of the week.
Q
How Much Does It Cost to Take the TABE Test?
A
There is a fee associated with taking the TABE test that is due upon registration. This fee varies depending on the test center.
Q
How Is the TABE Reading Test Formatted?
A
The TABE test can be taken in two different formats, either traditional pencil-and-paper or computerized. With either format, there are there different versions of the assessment:
Locator – The Locator TABE can be taken before the student's initial TABE test as a way to determine what level of the test they should be assessed at.
Survey – The Survey version of the TABE test is a shortened version that asks fewer questions per learning objective. The student is given a total of 90 minutes to respond to 100 questions divided into English, math and reading sections.
Complete Battery – The Complete Battery TABE test is the most accurate and reliable version os the assessment. Students are asked to respond to 195 English, math and reading questions within a 2-hour and 59-minute time limit.
There are six different levels of the TABE test including five ability levels and one level specifically designed for adult English-learning students, referred to as TABE CLAS-E.  Each of the levels and versions of the TABE look slightly different, but still achieve the same goals. The five ability levels are:
[L]iteracy (K-1)
[E]asy (2-3)
[M]oderate (4-6)
[D]ifficult (6-8)
[A]dvanced (9-12)
Any student that is unsure of which level, version or section of the TABE they should take needs to discuss their intentions with their advisor or an appropriate work contact.
Q
What Does the TABE Reading Test Assess?
A
The TABE reading test assesses the student's basic adult reading skills. On the test they will be asked to construct meaning or find and use information from a variety of texts that reflect real-life, everyday adult situations. The following four reading domains are tested:
Craft and Structure
Integration of Knowledge and Ideas
Key Ideas and Details
Reading Foundational Skills
Q
How Will the TABE Reading Test Be Scored?
A
There are no passing or failing scores associated with the TABE assessment. Individual performance is assessed as a way to provide insight into how the student may perform if accepted into a school or program, either in class or on the job. The TABE accurately reflects the student's ability for the school or program to compare their abilities to their established standards.

Q
How Can Students Improve Performance on the TABE Reading Test?
A
While the TABE test is not graded on a formal scoring system, performance on the test is often a determining factor in whether or not a student is accepted into a school or program or hired for a position. To help students improve their performance on the TABE reading test, Mometrix has a library of free study tools of resources, which includes:
Practice Tests
Study Guides
Flashcards
Practice tests are designed to present questions in the same fashion as they would appear on the actual TABE reading test to familiarize students with the reading domains and question types they may encounter on test day. These practice tests allow students to assess their current level of knowledge and understanding while reviewing topics with comprehensive explanations of correct answers.
Mometrix's study guides and flash cards provide a method of review of critical concepts that the student will need to be familiar with and understand in order to perform well on the TABE reading test.
Online TABE 11 & 12 Prep Course
If you want to be fully prepared, Mometrix offers an online TABE 11 & 12 Prep Course. The course is designed to provide you with any and every resource you might want while studying. The TABE 11 & 12 Course includes:
Review Lessons Covering All the Topics
600+ TABE 11 & 12 Practice Questions
More than 500 Electronic Flashcards
Over 230 Instructional Videos
Money-back Guarantee
Free Mobile Access
and More!
The TABE 11 & 12 Prep Course is designed to help any learner get everything they need to prepare for their TABE 11 & 12 exam; click below to check it out.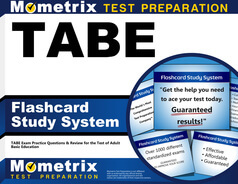 TABE Flashcards. Proven TABE test flashcards raise your score on the TABE test. Guaranteed.