The TABE, or Tests of Adult Basic Education, test assesses the skills and aptitudes of students in English, math and reading. The test is a nationwide assessment designed to provide schools and programs with a reliable and accurate reflection of how the student will perform within a workforce or classroom environment.
The TABE is often used by trade and technical schools and some colleges as a way to measure students' academic levels prior to the student beginning college or a career.  It is aligned with College and Career Readiness (CCR) standards and complies with Workforce Innovation and Opportunity Act (WIOA) regulations.
Q
Who Administers the TABE English Test?
A
The TABE test is given by CTB/McGraw-Hill in various locations throughout the United States, including:
4-year colleges
Community colleges
Private testing centers
Technical colleges
The TABE reading test is one part of the TABE assessment, which also includes English and mathematics sections. The TABE may be a requirement for students pursuing college admission or employment in certain programs. If the student is being asked to take the TABE assessment, they should communicate with their college advisors, counselors or supervisors for assistance and guidance for registering for the test and selecting a testing center.
Each testing center will have its own established schedule or specific days of the week when the assessment is available. If the student is not taking the TABE to fulfill a requirement, they should contact their local public school system.
Q
What Fees Are Associated with the TABE Test?
A
When the student registers to take the TABE test they may be asked to pay a fee. The amount of this fee varies from center to center.
Q
How Is the TABE English Test Formatted?
A
Students may take the TABE test in either traditional pencil-and-paper format or computerized format. The test comes in three different versions:
Locator – This pre-test should be taken prior to the student's initial TABE test in order to assess which level of the test they should take.
Survey – This shortened form of the TABE asks 100 questions based on learning objectives. Students have 90 minutes to respond to all items.
Complete Battery – This version of the TABE is the longest, most accurate and most reliable with 195 questions based on learning objective. Students are given 2 hours and 59 minutes to respond to each of the questions.
The final format and look of the TABE depends on which version and what level of the test the student takes. There are six different levels of the test, including TABE CLAS-E, a level specifically formatted for adult English-learning students. The remaining five ability levels are:
[L]iteracy (K-1)
[E]asy (2-3)
[M]oderate (4-6)
[D]ifficult (6-8)
[A]dvanced (9-12)
If a student is unsure what level, section or version of the TABE they are required to take, they should contact their advisor or an appropriate individual at their place of employment.

Q
What Domains Are Covered In the TABE English Test?
A
The TABE English test focuses on communication skills that the student needs in order to effectively perform in classes, at work or in their daily life. Through a variety of questions, the student will be tested on the following four English language domains on the TAVE English test:
Conventions of Standard English
Knowledge of Language
Text Types and Purposes
Vocabulary Acquisition and Use
Q
How Will Performance Be Scored on the TABE English Test?
A
There are no passing or failing scores for the TABE English test. The test assesses the student's abilities through a variety of learning objectives and domains in English, math and reading in order to provide schools and programs with an accurate reflection of how the student may perform in the work or school environment. This allows the school or program to compare the student's performance against their own set of established standards. Because of this, adequate preparation can help a student boost their performance and increase their chances at being accepted into their school or program of choice.
Q
How Can Students Prepare for the TABE English Test?
A
Mometrix has developed a free library of study tools and resources to help students prepare for success on the TABE English test. By incorporating these resources into their studies prior to test day, students can review critical concepts they will encounter on the TABE test. Mometrix's practice tests offer comprehensive explanations for correct answers on each of the questions, which accurately portray real examples of how the English domains will be presented on the actual assessment. Study guides and flashcards are available to review more challenging concepts and help boost performance on the TABE English test.
Online TABE 11 & 12 Prep Course
If you want to be fully prepared, Mometrix offers an online TABE 11 & 12 Prep Course. The course is designed to provide you with any and every resource you might want while studying. The TABE 11 & 12 Course includes:
Review Lessons Covering All the Topics
600+ TABE 11 & 12 Practice Questions
More than 500 Electronic Flashcards
Over 230 Instructional Videos
Money-back Guarantee
Free Mobile Access
and More!
The TABE 11 & 12 Prep Course is designed to help any learner get everything they need to prepare for their TABE 11 & 12 exam; click below to check it out.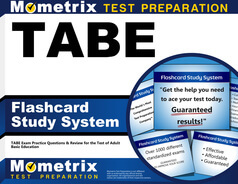 TABE Flashcards. Proven TABE test flashcards raise your score on the TABE test. Guaranteed.