The ACT English test, designed to be a fair and accurate assessment for all examinees, undergoes extensive review by ACT staff and external consultants to ensure that the content does not disadvantage or unfairly influence the performance of any group of examinees.
The test is periodically reviewed and updated to ensure that the content represents classroom instruction and is an accurate predictor of college and career readiness. These updates may result in slight differences between the actual ACT English test and the test materials you use to prepare for the test, including ACT English practice tests and study guides.
What to Expect on Test Day
The ACT English test is a 45-minute test with 75 multiple-choice questions designed to assess your understanding of critical English concepts by measuring your mastery of the six elements of effective writing: knowledge of language; organization, unity and cohesion; punctuation; sentence structure and formation; topic development; usage.
These concepts will be distributed randomly throughout the test with questions that are in reference to one of five passages. These passages will cover a variety of topics that reflect students' interests and will be written with different writing styles.
As you respond to each of the questions, you will need to fill in the respective oval on your answer sheet. Going through the test you may find yourself skipping questions to return to later as a time-saving strategy, so be sure to check the line number on your answer sheet with every question to make sure you are filling in the correct corresponding oval. If you fill in an incorrect oval, erase it completely taking care not to leave smudges, which may result in errors when the test is scored.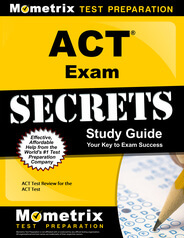 Prepare with our ACT Study Guide and Practice Questions. Print or eBook. Guaranteed to raise your score. Get started today!
What to Bring for Your ACT English Test
On test day you will need to bring your paper ticket (for National and International ACT test dates), approved photo identification, multiple sharpened soft lead No. 2 pencils, erasers and a watch without an alarm.
ACT English Six Elements of Effective Writing
Questions on the ACT English test are comprised of the six elements of effective writing, broken out into three reporting categories:
Category I – Production of Writing (29-32%)
Organization, Unity and Cohesion – Implement strategies to make sure a text has an effective introduction and conclusion, flows smoothly and is logically organized.
Topic Development – Demonstrate both understanding and control of the rhetorical aspects of a text, identify the purpose of a text, evaluate the relevance of materials and determine whether a text meets its intended goal.
Category II – Knowledge of Language (15-17%)
Knowledge of Language – Demonstrate effective language use by maintaining consistency in style and tone and ensuring precision and concision in word choice.
Category III – Conventions of Standard English (52-55%)
Punctuation – Recognize and revise common problems with Standard English punctuation.
Sentence Structure and Formation – Understand and revise sentence structure and formation in a text.
Usage – Recognize and revise Standard English usage in text.
How the ACT English Test Is Scored
ACT test scores are based on the number of correct responses with no penalty for incorrect responses. If you get stuck on a question or are running out of time, it is perfectly acceptable to take a guess so you can answer every question within the time you are given to complete the test.
When you receive your score report, you will see four scores, one total test score and three reporting category scores for Production of Writing, Knowledge of Language and Conventions of Standard English.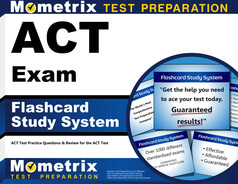 ACT Flashcards. Proven ACT test flashcards raise your score on the ACT test. Guaranteed.
Preparing for the ACT English Test
The 45-minute time allotment is intended to give most examinees sufficient time to complete the assessment and answer all questions, but the ACT English test contains a noteworthy amount of text.
You should plan to pace yourself to leave enough time to thoroughly read the instructions of the test and the texts carefully, and understand what each question asks before selecting an answer choice. A time-saving strategy is to answer the questions you find easier first while skipping the more difficult ones to return to later if you have time.
When you choose a response keep in mind that the ACT English test asks you to choose the best answer, which means there may be more than one that correctly answers the question, with one being better than the rest.
More difficult questions may require you to use logic to eliminate responses before choosing the correct one. Even if you are unsure of the answer, you can increase your chances of guessing correctly by eliminating responses that are logically incorrect.
Study in Advance
As you prepare and study for the ACT English test, keep in mind that the test is designed to assess skills and knowledge that have been acquired over time, so last minute study sessions will not be enough to improve
English for the ACT or your score. Instead, you should carefully plan and study well in advance of your designated test day. This will give you enough time to take an ACT English practice test to evaluate your level of knowledge before reviewing any content areas in which you may not have performed as well.
Plan of Action
As part of your ACT prep you should establish a plan of action that starts with an ACT English practice test that allows you to familiarize yourself with the types of questions and content you may encounter on test day.
From there, you will be able to refresh your knowledge with study guides and other resources that offer ACT English grammar help, like those from Mometrix. These resources are valuable tools for you to review all content areas, especially those which make up larger portions of the test.