Getting into the right college can determine a lot about your life and career. Well prepared exam takers rely on an ACT Test Study Guide to help them get ready for the test, while others may prefer ACT Test Flashcards. Don't let procrastination stand in the way of your success.
The American College Testing Test (ACT) is a college admissions examination taken by high school-aged students to determine their readiness for college. Approximately the same numbers of students take the ACT as the Scholastic Assessment Test (SAT) as the ACT has increased in popularity in recent years.
Results are accepted by all four-year colleges and universities in the United States as part of the admissions process. People of all ages are eligible to take the ACT, including adults and kids in middle school; the average age of ACT test takers is 16 or 17 years old.
ACT Practice Test
About the ACT
The regular ACT consists of four sections: English, Mathematics, Reading, and Science. Within the four sections there are a total of 215 multiple choice questions: 75 English questions in 45 minutes, 60 mathematics questions in 60 minutes, 40 reading questions in 35 minutes, and 40 science questions in 35 minutes.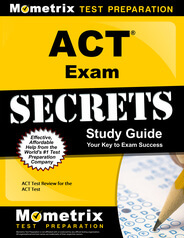 Prepare with our ACT Study Guide and Practice Questions. Print or eBook. Guaranteed to raise your score. Get started today!
There is also an option to take what is called the ACT Plus Writing which consists of the same sections and also 30-minute writing test. Students should find out whether any of the schools they are planning to apply to require the ACT Plus Writing exam or only the standard ACT.
Even though all schools do not require the Writing test, many students elect to take it and still report their scores to show they are proficient in writing. The writing test consists of a single writing prompt in which the test taker will be asked to take a position on the issue presented. The score is not affected by the position that is taken but rather how well the position is articulated.
The ACT is offered six times throughout the year on various Saturdays. When registering online (the fastest registration method), test takers will select their preferred testing location. In some instances, registrants will be assigned to a different location-this is because the requested testing location was either full or unavailable.
If there is not a Saturday testing center within 50 miles, test takers may be eligible for non-Saturday testing. In rare instances, some test takers will be eligible for arranged testing if both their religious beliefs do not allow them to test on Saturday and they are not located within 50 miles of a non-Saturday testing center.
The first registration deadline is a little over a month before the testing date. Registrants can still schedule to take the test following the first registration deadline, but a late fee of $22 will be assessed. The standard ACT test (without the writing section) costs $35. The ACT Plus Writing exam costs $50.25. All prices are subject to change.
It is important to know that there is no penalty for guessing when taking the test. Therefore, test takers are strongly encouraged to pace themselves so that they are able to answer every single question.
A common test-taking strategy that applies to taking the ACT is to answer all of the easier questions first and then, as time allows, go back and spend more time on the more difficult questions to ensure an answer is provided for every question. For each of the four tests (or five if taking the writing test) an announcement will be made that there are five minutes remaining in that section.
Test takers are encouraged to take the test at least two months ahead of the application deadlines for the schools to which they are applying. Many elect to take the test even sooner for multiple reasons. First, many take the test before they begin applying to schools in order to avoid being overwhelmed during college application season.
Additionally, many students want to allow time to retake the test if they want to improve upon their score, as many students take the test once in their junior year and again in their senior year. The test can be taken a total of 12 times. Students can also elect which specific scores to report to schools.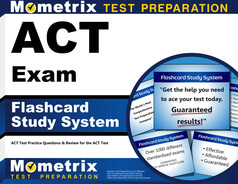 ACT Flashcards. Proven ACT test flashcards raise your score on the ACT test. Guaranteed.
Fifty-seven percent of those who retake the ACT increase their composite score. When deciding whether to retake the test, students should consider whether they will have more time to prepare for subsequent exams and if they felt their first score was not representative of their true ability and knowledge of the topics covered.
Naturally, students want to find out the scores of their test as soon as possible following completion of the exam. Scores are viewable online approximately two to eight weeks following the exam. Writing scores are posted approximately two weeks following the reporting of the composite score.
Test takers can choose to report scores to colleges and universities as late as the Thursday following the exam. Following the exam, a decision will need to be made as to whether a test taker felt they did well enough on the exam to report the score to schools.
However, scores sent to schools cannot be cancelled once a test taker knows his or her score. Scores from previous tests can be sent, so it may be a good strategy to wait until a test taker knows his or her score to decide whether to send that score to a college or university.
Preparation is very important for the ACT, especially because it is an important part of a college applicant's admissions package. Many tutoring and test preparation services offer guide books and study courses for the ACT.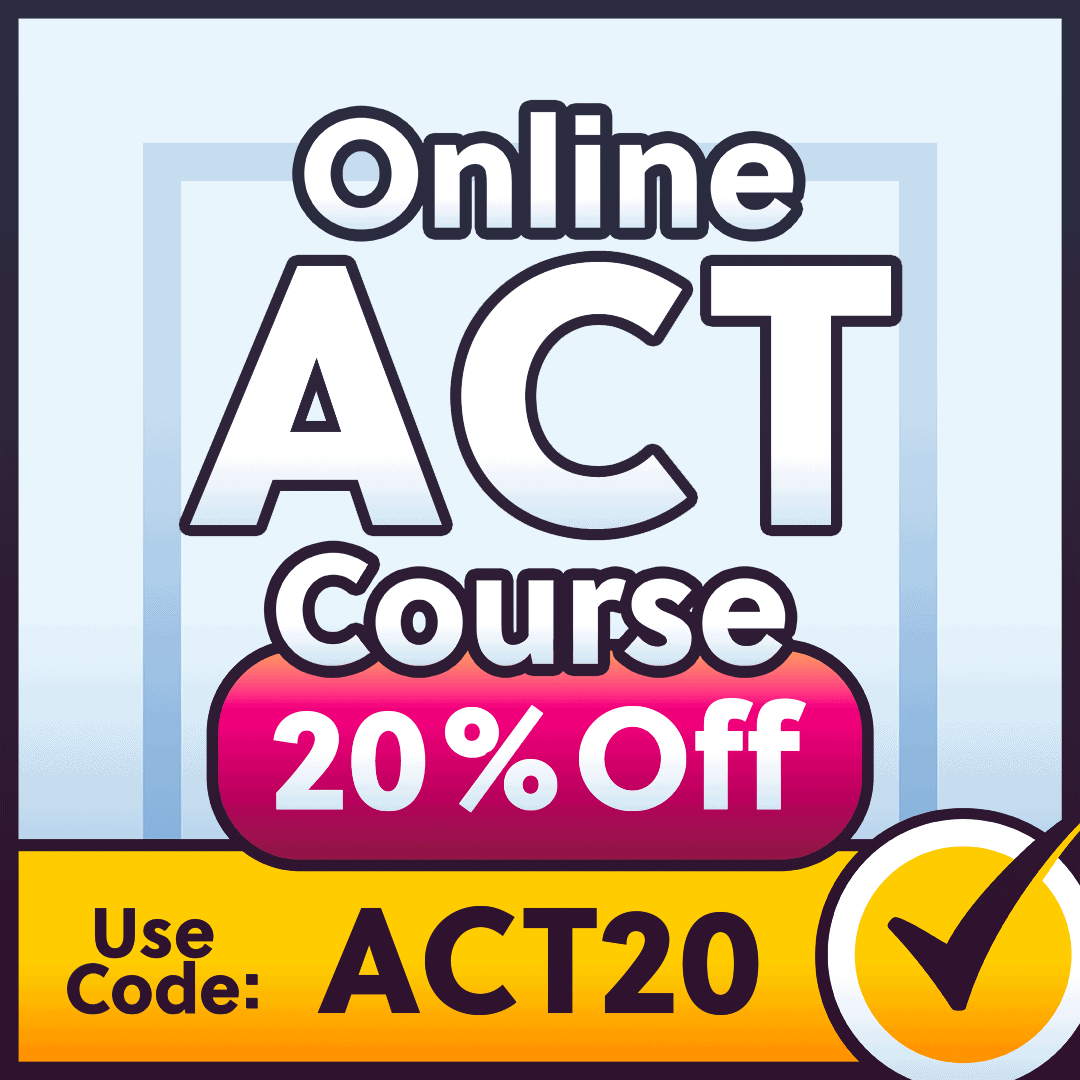 ACT FAQ
Q
What is a good score on the ACT?
A
The ACT is scored using a scale of 1-36. A good score is anywhere from 17-36.
Q
What is in the ACT test?
A
There are five subjects covered by the ACT. They are English, Reading, Writing, Math, and Science.
Q
Is a 30 good on the ACT?
A
30 is a good score on the ACT. The highest you can score on the ACT is a 36.
A
The ACT is a generally straightforward test. If you pay attention to details and take your time, you will do well.
Q
What ACT score is needed for Yale?
A
To be accepted into Yale University, you must have an ACT score of at least 31.
Q
Is the ACT or SAT more difficult?
A
Neither test is "harder" than the other. Different types of students will react to the tests differently.
Q
Do most colleges prefer the SAT or ACT?
A
Overall, colleges do not have a preference as to which scores you present to them. The common idea that SAT scores are more favorable than ACT scores is purely a myth.
Q
What is a good score on the ACT for a 10th grader?
A
The average ACT score for a 10th grader is 18-24. A score of 31 would be considered well above average.
Q
How many questions are on the ACT?
A
There are 215 questions on the ACT, as well as one essay.
A
Each of the four sections of the test are graded using a scale of 1-36. Those scores are then averaged into your final "composite" score, which is also based on a scale of 1-36.
Q
What does your ACT score have to be to get into Harvard?
A
To be accepted into Harvard University, your ACT score must be at least 32.
Q
Is there any calculus on the ACT?
A
No, there are no calculus questions on the ACT.
Q
Do Ivy Leagues accept ACT scores?
A
Yes. All Ivy League schools accept ACT scores.
Q
What math is in the ACT?
A
There are six areas of math covered on the ACT. They are Pre-Algebra, Elementary Algebra, Intermediate Algebra, Coordinate Geometry, Plane Geometry, and Trigonometry.
Test Directory
ACT Test Breakdown / ACT Testing / Test Score / Paying for College Information / ACT Prep Course offered by the Mometrix Academy
ACT Study Guide
Explore our free ACT review provided by Mometrix. Check out our premium ACT study guide to take your studying to the next level. If you benefit from these materials, just click the link below! To compliment our ACT book, we also offer extensive flashcards for even more ACT test prep help. We hope you enjoy our products! Your purchase helps us make more great, free content for test-takers just like yourself.