Many prospective college students will need or want to take the ACT exam. This exam was developed by the ACT (formerly American College Testing) to measure general academic ability. The basic core of the ACT test is four multiple-choice tests in the following content areas: English, mathematics, reading, and science.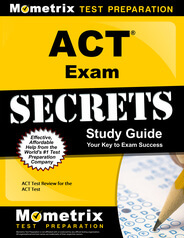 Prepare with our ACT Study Guide and Practice Questions. Print or eBook. Guaranteed to raise your score. Get started today!
The English section contains 75 questions and must be completed in 45 minutes. The content of the English exam can be divided into three sections: Production of Writing (29%-32%), Knowledge of Language (15%-17%), and Conventions of Standard English (52%-55%).
The English section is composed of five prose passages, followed by questions. English Practice Test
The math section contains 60 multiple-choice questions and must be completed in 60 minutes. This section can be broken into 6 constituent parts: pre-algebra (23%); elementary algebra (17%); intermediate algebra (15%); coordinate geometry (15%); plane geometry (23%); and trigonometry (7%). Math Practice Test
The reading test contains 40 multiple-choice questions and must be completed in 35 minutes. Four passages will be presented to the candidate, each of which is roughly at the level of difficulty found in college freshman courses.
The four content areas from which these passages are drawn are social studies, natural science, fiction, and the humanities. The questions that follow these passages are meant to assess the candidate's ability to understand and evaluate material, rather than the ability to recall obscure facts or define vocabulary. Reading Practice Test
The science section contains 40 questions and must be completed in 35 minutes. In order to succeed in this section, candidates will need to have taken Earth science, physical science, and biology. This test seeks to measure the candidate's ability to apply scientific reasoning skills.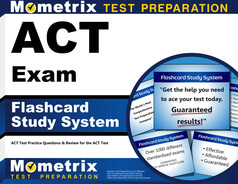 ACT Flashcards. Proven ACT test flashcards raise your score on the ACT test. Guaranteed.
Content will be presented in the following formats: data representation, as for instance graphs and tables (38% of the exam); research summaries (45%); and conflicting viewpoints (17%). Students will be able to access a copy of their ACT test score report within a couple of weeks. Science Practice Test
The raw score is calculated as the number of questions answered correctly. There is no penalty for incorrect answers on the ACT test, so students should guess on questions they do not know. The raw scores are then converted into scores on a scale of 1 to 36 for each of the four multiple-choice tests.
These four scores are averaged to produce the student's composite score. The score report will also show the student's percentile rank in each of the four tests and on the test as a whole. The ACT test is administered six times during the school year at testing locations across the country.
ACT Test Practice / ACT Testing / ACT Test Score / Paying for College Information