The ASWB test is a licensing exam for social workers. The Association of Social Work Boards (ASWB) in Culpeper, Virginia sponsors the exam. That organization's Examinations Committee develops the tests according to standards developed with the American Psychological Association.
ASWB Test Study Guide with Practice Questions
The ASWB test is typically taken in connection with the social worker licensing requirements for a particular location. The exact process varies according to each jurisdiction. In some cases, an applicant may need to contact a social work board to submit a license application, to make a request for special testing arrangements, or to receive approval to take the ASWB examination.
Resource Links
Social Work Exam Format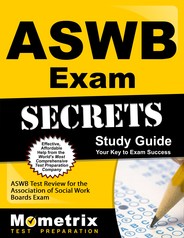 Prepare with our ASWB Study Guide and Practice Questions. Print or eBook. Guaranteed to raise your score. Get started today!
A multiple choice exam, the ASWB sponsors its exam at various test sites. It is a computer-based exam with a four-hour time limit, and most test-takers have no trouble completing the exam in the allotted time.
ASWB test-takers have a great deal of flexibility in how they take the exams. They can temporarily pass over a question and return to it later. In addition, they can change an answer.
Participants do not need to have any computer experience, and a tutorial is given before the real exam begins. That time is not deducted from the four-hour exam period.
Participants answer 170 questions. Only 150 questions count toward a score. Social work practitioners recommend the extra 20 questions that are included, and the ASWB pretests them before using them for scoring purposes.
Test Levels
The ASWB test is offered at four different levels:
Bachelor: The most basic of the tests, this is offered to persons with a bachelor of social work degree with no experience beyond the degree.
Master: This is offered to persons with a master of social work degree without any experience beyond the degree.
Advanced Generalist: This is offered to persons with a master of social work degree who have two years of nonclinical experience.
Clinical: This is offered to persons with a master of social work degree who have two years of clinical experience.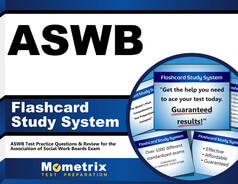 ASWB Flashcards. Proven ASWB test flashcards raise your score on the ASWB test. Guaranteed.
A particular exam is the same everywhere, but all four exams are not offered in every jurisdiction.
Some jurisdictions allow social workers to take the ASWB test for the associate level. If that is the case, the exam is the same as for bachelor of social work, but test-takers can earn a lower score to meet the requirements.
The fee for the Bachelor or Master exam is $230. The fee for the Advanced Generalist or Clinical test is $260.
ASWB Study Guide
Explore our free ASWB review provided by Mometrix. Check out our premium social work study guide to take your studying to the next level. If you benefit from these materials, just click the link below! To compliment our ASWB book, we also offer extensive flashcards for even more ASWB exam prep help. We hope you enjoy our products! Your purchase helps us make more great, free ASWB certification content for test-takers just like yourself.