Each individual approaches test preparation in a different way. Many test-takers will choose a COMPASS Test Study Guide while others will prefer the modular approach of COMPASS Test Flashcards. Since so much is at stake, it is important to choose carefully as you are ultimately responsible for the test result you receive.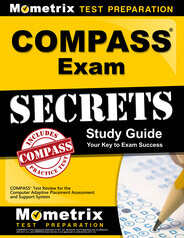 Prepare with our COMPASS Study Guide and Practice Questions. Print or eBook. Guaranteed to raise your score. Get started today!
The ACT Compass is unlike many other standardized tests designed to be administered by colleges and universities used to assess and potentially place current students. It includes placement tests that staff or faculty can use to place students in appropriate coursework and diagnostic tests used to identify subject areas where an entire group or class of students may need additional help.
In most instances, the test is administered to newly-admitted students before they begin any or much of their formal classwork. In some instances, institutions may require a student to take a specific test before enrolling in a particular course, though the test is often administered and used as an all-encompassing placement test.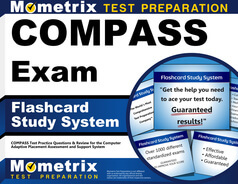 COMPASS Flashcards. Proven COMPASS test flashcards raise your score on the COMPASS test. Guaranteed.
Offered tests include reading, writing, math, writing essay, and English as a second language (ESL). ACT Compass test results are provided immediately to students-the scores are often less important to the students than in what coursework the students will be placed as a result of their scores.
The test is computer-adaptive, meaning the difficulty of the questions being asked are determined by how well the test taker did on the previous questions on the test. Taking numerous COMPASS practice tests is recommended for test day success.
COMPASS Exam Study Guide
COMPASS Practice Tests
COMPASS Reading Practice Questions
COMPASS Math Practice Questions
COMPASS Writing Practice Questions
The math test includes questions in five subject areas with trigonometry being the most advanced. Certain types of calculators can be used during the math portion (see the ACT Compass website for the rules regarding calculators). The reading test is generally used to determine if students have the reading skills needed to succeed in entry-level college courses. The writing skills test requires students to identify and correct errors in essays as simple as punctuation to more complex skills such as overall essay organization. All of these tests are entirely in a multiple choice format.
The writing essay test is used to obtain a direct measure of a student's writing ability. The test consists of at least one writing prompt with multiple points of view on that issue and asks the student to respond regarding their position on the issue. Unlike many other computer-based writing tests, an instantaneous evaluation will be given on either a 2-8 or 2-12 score scale. The ESL test allows institutions to test the ability of non-native English speakers in listening, reading, grammar, and essay.
Free COMPASS Math Practice Quiz
Unlike other standardized tests which only display final scores in a uniform format, the reporting from the ACT Compass can be customized in a variety of ways. Student reporting can include the raw scores of the various sections and subsections (and also the time spent on each subsection), but the scores also offer recommendations for additional assistance they may want to seek as a result. Many institutions choose to develop cutoff scores unique to their program, and the reporting shown to students can include messages about course placement as a result of the testing. Institutions can also elect not to show any results right away.
In addition, ACT Compass reporting for institutions can include a summary of scores for all students or for a particular subgroup. The ACT Compass can also be used to collect demographic information about students which can also be included in the reporting to institutions. An institution can also elect to receive a retention report showing the demographics of students who are more or less likely to remain in the program. Institutions are also encouraged to contact ACT Compass for unique reporting, offered at an additional cost, that they may be interested in receiving.
The benefits to institutions of the ACT Compass can include those beyond incoming or current students. For institutions that attract nearly all of their students from a specified geographic region, such as community colleges that attract almost all of their students from area high schools, the ACT Compass can also be used with high schools to help them improve the college readiness of their own students. This can help minimize the need for institutions to devote limited resources to ensuring that nearly all of their incoming students meet a basic level of readiness for college.
The ACT Compass can also be administered remotely either to students of institutions that offer online coursework or for institutions that require the exam to be completed by students who are not all in the same geographic area. When this is required, students can take the test in one of over 550 testing centers across the country.
Unlike other standardized tests, students are not expected to prepare for taking the ACT Compass in any way because it is designed to be an indicator of their readiness for college at that particular moment. The ACT Compass website offers sample test questions but they are only intended to be used to familiarize a student with the test format.
COMPASS Test Breakdown | COMPASS Prep Course offered by the Mometrix Academy
COMPASS Test Overview
Self-Assessment Modules