The Family Nurse Practitioner Board Certification (FNP-BC) exam is given to candidates to assess their clinical knowledge and skills as nurse practitioners. Passing this exam means obtaining your Family Nurse Practitioner Certified (FNP-BC) credential. The exam was designed by the American Nurses Credentialing Center (ANCC) and is given to test what a candidate has already learned. The examinee will be tested on a variety of different topics that assess their competency and ability to be successful in their career field.
Who is eligible to take the Family Nurse Practitioner exam?
Those who are eligible to take the Family Nurse Practitioner exam must:
Hold a current and active RN license in the United States or the equivalent professional license in another country.
Have either a Master's, postgraduate, or Doctoral degree from a family nurse practitioner program. The program must be accredited by the Commission on Collegiate Nursing Education (CCNE) or the Accreditation Commission for Education in Nursing (ACEN). The candidate must also have 500 faculty-supervised clinical hours included in their program.
If you have not completed your degree, you may still take the exam as long as you provide unofficial transcripts to the ANCC. However, you must complete all your coursework and clinical hours by the time you sit for the exam.
How is the exam formatted?
The exam is computer-based and consists of 175 questions. 150 of these questions are scored while 25 of them are pretest questions and are not scored. Examinees will have 3.5 hours to answer all questions, which is thirty minutes less than what examinees currently get.
How much does it cost to take the FNP-BC exam?
The cost of the exam for ANCC members is $340. For nonmembers, the cost of the exam is $395. For exam retakes, you will need to pay $270, and for exam recertification nonmembers will need to pay $350 and members will need to pay $280.
How can I register for the exam?
You may register for the exam online year-round and test during a 90-day window. To register online visit the official ANCC website at www.nursingworld.com.
Where will I be taking the FNP-BC exam?
The exam is given at Prometric testing centers located throughout the United States. To find a location nearest you visit www.prometric.com.

How often do I need to renew my certification?
Renewing your certification shows that you remain competent in your career field and that your knowledge has expanded. You will need to renew your certification every 5 years. You may fill out the renewal application either online or by mail. 
What will the exam test me on?
The FNP-BC exam consists of three different domains:
Domain I: Foundations for Advanced Practice (37%)
Foundations for Advanced Practice contains 64 questions and tests an examinee in advanced physiology /pathophysiology across the life span; advanced pharmacology for treating patients across the lifespan; advanced health/physical assessment across the lifespan; clinical prevention and population health for improvement of outcomes; research methodology; and informatics.
Domain II: Professional Practice (17%)
This domain consists of 30 questions and tests an examinee's knowledge in leadership, advocacy, and inter-professional collaboration; quality improvement and safety; healthcare economics, policy, and organizational practice; scope and standards of practice
Domain III: Independent Practice (46%)
Domain three consists of 81 questions and tests an examinees knowledge in health promotion, and maintenance across the life span; illness and disease management; care of diverse populations; translational science/evidence-based practice; advanced diagnostic reasoning/critical thinking.
What will exam day be like?
On the day of your exam, you will want to arrive at least fifteen minutes early. Be sure to have your photo ID with you. Your ID must be valid and contain your signature. You are not allowed to bring any books, calculators, or other personal items into the exam room with you.
What happens if I don't know the answer to a question?
If you don't know the answer to a question, you will not be penalized for guessing.
What score do I need to get in order to pass the FNP-BC exam?
Because the FNP-BC exam is scored on a scale that reaches 500 points, in order to pass the exam, you will need to score at minimum a 350 or higher.
How long will it take to get my exam scores?
Upon completion of the exam you will receive a preliminary pass/fail score. You will receive your official score report along with your credentials in the mail two weeks after taking the exam.
If I fail the exam will I be able to take it again?
Yes. However, you can only retest 60 days after your last attempt. You will also need to meet all eligibility requirements. You are allowed to take the exam twice in a calendar year.
What if I need to withdrawal from the exam?
If you need to withdraw from the exam, you must do so before the expiration of the assigned 90-day eligibility period. You will need to contact ANCC as well as Prometric to cancel your exam date and time. Keep in mind that any fees you paid are nonrefundable. If you decide to take the exam again, you will need to fill out a new application, as well as pay all the required fees.
How can I prepare myself for the FNP-BC exam?
Mometrix Test Preparation is a great study resource for those wanting to pass the Family Nurse Practitioner exam the first time they take it. Mometrix has designed a study guide, an online review course, and flashcards that make studying easy while at the same time providing you with all the information you need to know for your exam. Our study guide contains sample questions similar to the questions you will run into on the actual FNP-BC exam, and our flashcards are designed for studying on the go. Our online review course gives you lessons, video reviews, practice tests, and more. The FNP-BC exam is a difficult exam to pass, but with Mometrix Test Preparation, you will pass it with a score you can be proud of.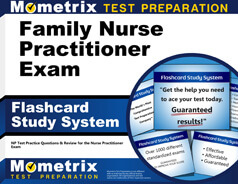 Family Nurse Practitioner Flashcards. Proven Family Nurse Practitioner test flashcards raise your score on the test. Guaranteed.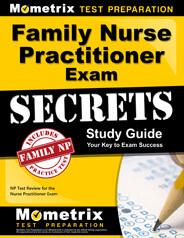 Prepare with our Family Nurse Practitioner Study Guide and Practice Questions. Print or eBook. Guaranteed to raise your score. Get started today!