The PERT Mathematics practice test is specifically designed to ensure that the test-taker is knowledgeable about the PERT and is able to know what to expect when it is time to take the Mathematics portion of the PERT.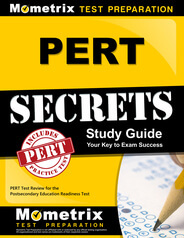 Prepare with our PERT Study Guide and Practice Questions. Print or eBook. Guaranteed to raise your score. Get started today!
The Mathematics portion will consist of 30 questions that will address seven main topics.
These topics are as follows:
Equations, such as solving linear equations, linear inequalities, quadratic equations, and literal equations
Evaluating Algebraic Expressions
Polynomials, such as factoring, simplifying, adding, subtracting, multiplying, and dividing
Dividing by Monomials and Binomials


PERT Flashcards. Proven PERT test flashcards raise your score on the PERT test. Guaranteed.

Applying Standard Algorithms or Concepts
Coordinate Planes, such as translating between lines and inspect equations
Focusing on Pairs of Simultaneous Linear Equations in Two Variables
Due to our foreknowledge of the domains of this test, we have made sure that the PERT Mathematics practice test will cover these topics thoroughly.
There is no time limit when taking the PERT.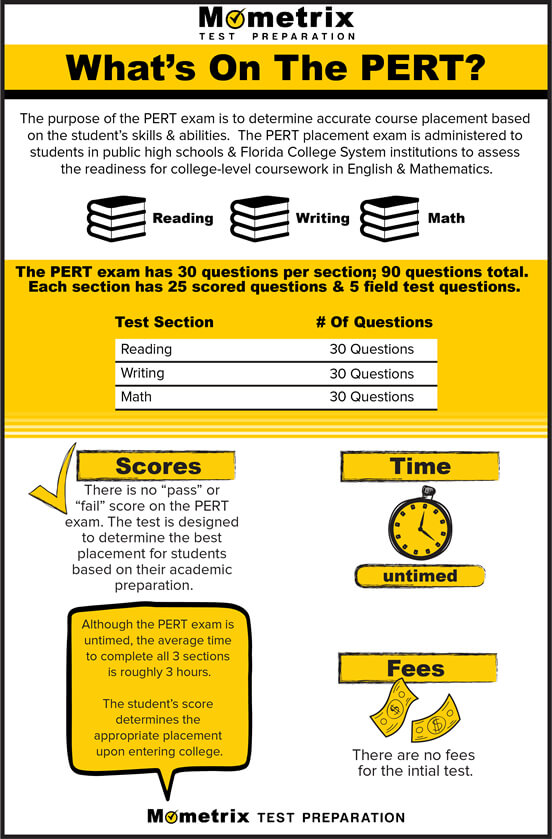 Click Here for PERT Practice Test