The PERT Writing practice test is specifically designed to ensure that the test-taker is knowledgeable about the PERT and is able to know what to expect when it is time to take the Writing portion of the PERT.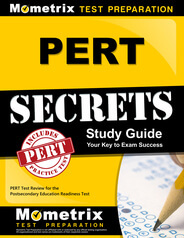 Prepare with our PERT Study Guide and Practice Questions. Print or eBook. Guaranteed to raise your score. Get started today!
The Writing portion will consist of 30 questions that will address thirteen main topics.
These topics are as follows:
Sustaining Focus on a Specific Topic or Argument
Establishing a Topic or Thesis
Demonstrating Use of the Conventions of Standard Written English, Including Grammar, Usage and Mechanics
Supporting and Illustrating Arguments and Explanations
Developing and Maintaining a Style and Tone
Synthesizing Information from Multiple Relevant Sources


PERT Flashcards. Proven PERT test flashcards raise your score on the PERT test. Guaranteed.

Conveying Complex Information Clearly and Coherently
Representing and Accurately Citing Data, Conclusions, and Opinions of Others
Establishing a Substantive Claim and Acknowledging Competing Arguments or Information
Conceptual and Organizational Skills
Word Choice Skills
Sentence Structure Skills
Grammar, Spelling, Capitalization and Punctuation Skills.
Due to our foreknowledge of the domains of this test, we have made sure that the PERT Writing practice test will cover these topics thoroughly.
There is no time limit when taking the PERT.
Click Here for PERT Practice Test