The PERT Writing practice test is specifically designed to ensure that the test-taker is knowledgeable about the PERT and is able to know what to expect when it is time to take the Writing portion of the PERT.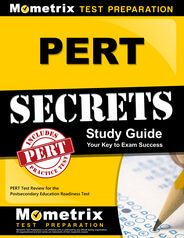 The Postsecondary Education Readiness Test (PERT) is a placement test used by the state of Florida to determine your readiness for undergraduate studies. The PERT is made up of three separate tests, Reading, Writing, and Math. This article discusses the writing section of the PERT.
Who has to take the PERT?
Students in Florida public high schools are required to take the PERT during their 11th year.  Additionally, incoming freshmen to Florida colleges and universities may be required to take the placement test. If you are active duty military or have received accepted scores on the ACT or SAT, you are exempt from taking the PERT.
Why should I take the PERT?
The PERT placement test is an effective method of determining which English or Math classes would be most beneficial to your college goals. The test is used to identify your strengths and weaknesses in English and Math and place you in courses that are suitable, challenging, and attainable. Conceivably, the PERT can save you time and money through proper placement, so you do not have to repeat a course needed for graduation.
Registration
Florida high school students are scheduled to take the exam during their 11th year. Incoming college students register for the exam at their college before setting their first-semester schedule.
Cost
There is no cost for high school students in the state of Florida. Each student is registered for the exam at their high school. Incoming freshmen students generally do not have to pay a testing fee. However, some colleges may charge a fee, and some only charge a fee if you are retaking an exam.
Test format and delivery
The PERT – writing section is taken with the other two sections, Reading and Math. Each section is completed before moving to the next section. The test is not timed. The average time spent on the writing section is 45 minutes.
The PERT- writing section is a computer-delivered, adaptive exam consisting of 30 multiple-choice questions. An adaptive exam increases in difficulty with every correct response, and stays at the same difficulty level (or gets easier) with each incorrect response. Adaptive exams, therefore, are individualized – testing each candidate's abilities and adapting to their knowledge base – providing a thorough assessment of each unique test-taker.
Each question must be answered before moving on to the next, and once answered, you cannot change your response. Take the time you need to identify the correct response, using the process of elimination when all else fails.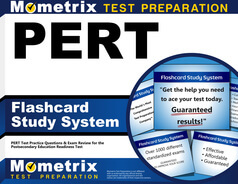 PERT Flashcards. Proven PERT test flashcards raise your score on the PERT test. Guaranteed.
Test content
The PERT – writing section tests your ability to analyze text. Using your understanding of grammar, punctuation, and spelling, you will correct errors and assist in making the writing clear to the reader. Your ability to read and synthesize information, focusing on proper usage and grammar is examined in the PERT – writing. The writing portion of this test is intended to examine your ability to correctly read and synthesize information, with a focus on proper usage and English grammar. To practice, focus on proper capitalization, use of punctuation, spelling, and grammar conventions. This may be done through reading and analyzing what makes up a strong, compelling piece, or by studying each individual aspect of English grammar. The writing section focuses on your reading and analytical abilities using the following content:
Basic writing rules, including grammar, word choice, word order, punctuation, and capitalization.
Common errors found within a text, including grammar, punctuation, capitalization, and spelling.
The appropriate use of commas and apostrophes.
Common sentence structure errors, including pronoun-antecedent agreement, verb tense, parallel structure in a list, and modifiers.
Basic terms used in writing, including topic, thesis, style, tone, conclusion, fact, opinion, and transition.
Terminology – including topic, thesis, grammar, style, tone, citation, conclusion, fact, opinion.
Basic errors, including sentence fragment, comma splice, and subject-verb agreement.
Knowledge of confusing words and phrases (i.e., accept, except, advice, advise, etc.)
Irregular adjective and irregular adverb forms.
Adjective superlatives.
Unnecessary or irrelevant information provided within a text.
Use of Standard English without current colloquialisms – in other words, avoid "text speak."
How is the test scored?
You are scored on a scale of 50 to 150. If you receive a score of 98 or below, you may be required to take a remedial writing class before you are allowed to register for the freshman-level composition course. A score between 99 and 150 indicates your readiness for a freshman-level composition course, according to Florida standards. Before you leave the testing center, you are provided a copy of your score report. Your score report is given to your college or high school as well. The PERT scores are valid for two years.
Preparation
If you are required to take the Postsecondary Education Readiness Test, you want to be as prepared as possible to earn the highest score you are capable of obtaining.  The result of a low PERT score is the requirement to take (and pass) remedial classes before you can take the course that is required for graduation. Your grade in the remedial class does factor into your overall GPA, but it doesn't count to graduation, and you have to pay for an additional class. That makes no sense in the overall scheme of things.
Instead, use Mometrix Test Preparation's Study Guide and Flashcards to study for the PERT. Everything you need to know and understand, from concepts to vocabulary to mathematical functions, is covered within their study tools. Mometrix offers a 100% money-back guarantee on all of their study products. If you're not happy, you'll get every cent back. You can't say the same for the remedial course you may have to sign up for. Order the study guide and flashcards today and save yourself stress, money, and extra classes.
Online PERT Prep Course
If you want to be fully prepared, Mometrix offers an online PERT Prep Course. The course is designed to provide you with any and every resource you might want while studying. The PERT Course includes:
Review Lessons Covering All the Topics
500+ PERT Practice Questions
More than 350 Digital Flashcards
Over 180 Instructional Videos
Money-back Guarantee
Free Mobile Access
and More!
The PERT Prep Course is designed to help any learner get everything they need to prepare for their PERT exam; click below to check it out.