The free TEAS Reading practice test is specifically designed to ensure that the test-taker is knowledgeable about the TEAS and is able to know what to expect when it is time to take the Reading portion of the TEAS.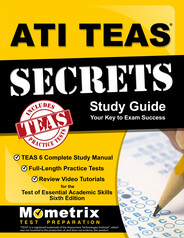 Prepare with our TEAS Study Guide and Practice Questions. Print or eBook. Guaranteed to raise your score. Get started today!
The Reading portion will consist of 53 multiple-choice questions that address three main topics.
These topics are as follows:
Key ideas and details
Craft and Structure
Integration of Knowledge and Ideas
We have ensured that the ATI TEAS 6 Reading practice test will cover these topics thoroughly.
When taking this portion of the TEAS, you will have 64 minutes to finish.
ATI TEAS 6 Reading Prep Course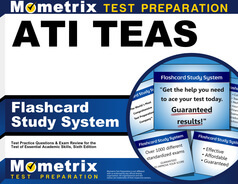 TEAS Flashcards. Proven TEAS test flashcards raise your score on the TEAS test. Guaranteed.
You are about to embark upon the most exciting and promising phase of your life: the education and preparation for your nursing career. You have undoubtedly put a great deal of time, thought, and effort into choosing your best educational path, but whatever school you attend in the United States, you will be required by the Assessment Technologies Institute (ATI) to take the TEAS – Test for Essential Academic Skills – and attach your scores to your nursing school application(s).
Beginning fall of 2016, the version called TEAS 6 has replaced TEAS V. As before, TEAS covers these four categories: Reading, Mathematics, Science, and English and Language Usage. Whether you are familiar with the TEAS V or TEAS as a compulsory test is brand new to you, we will make sure you understand the test and updates. Mometrix Test Preparation has one primary goal for nursing students: to help you enter each of the four TEAS phases prepared, not only so you will pass, but that you might excel in each category. Even beyond than that, your Mometrix training is really excellent groundwork for your education, giving you guide on how to study in college.

You might wonder why ATI determined the specific TEAS' classifications were so essential that they are universally required for all incoming nursing students. Simple. Becoming a nurse does not mean that you will be in a medical box required to engage only in medical-related responsibilities; no, rather you will be need to be a well-rounded individual who excels in each of the TEAS testing areas (that is why they chose these four!), not only for your education, but your career.
To help put you at ease about the TEAS, let's first talk about some questions or concerns you might have concerning this segment, Reading.
Free TEAS Reading Practice Test
WHY IS READING IMPORTANT TO THE ATI TEAS 6?
Well, what can you expect to use "Reading" for? First, you will of course be using it for your education. That's a given, for here, as a nursing student, you will be covering a wide variety of topics. Depending upon your own inner interests, skills, and talents, some subjects will probably be a breeze for you, while others will be a serious challenge.
Once you have achieved your academic goals and become a nurse, you will have reports, charts, texts, and a wide variety of documents to read, understand, and report about for your co-workers' interactions and your patients' well-being.
Reading excellence is an essential component to many jobs, however to nursing, your comprehension and reading excellence is essential for the benefit of all in your medical community. You never want to be an accessory to a mistake or misunderstanding, but rather you want to have clear understanding so you comprehend every aspect of nursing for which you are responsible.
"MY ACADEMIC PERFORMANCE IN READING WAS GOOD, SO I SHOULD BE JUST FINE, RIGHT?" YOU MIGHT ASK.
Not necessarily. It's funny; your earlier academic prowess in Reading skills is not an assurance of TEAS success on the Reading section. That's why you need this test preparation. Rather than actual academic knowledge, TEAS is more directly related to understanding and usage of Reading.
READING IS READING; WHY DOES THE TEAS NEED TO CHANGE IN THIS CATEGORY?
The nursing field, by nature, is constantly changing, so the Reading section of the TEAS must change fairly often, too. It updates to reflect and more accurately assess the current environment, hence TEAS 6 is in effect. This overview for Reading reflects the changes, what you will find overall so there are no surprises, and how to tackle the questions and best prepare for the test.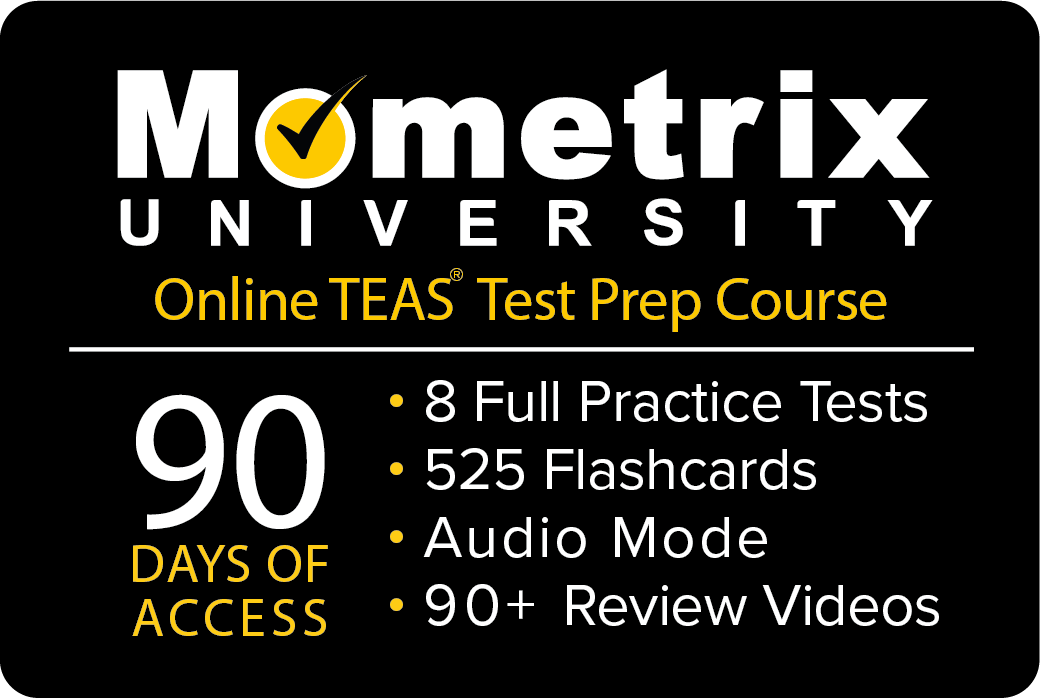 ATI TEAS Study Course (Amazon)
READING CHANGES FROM TEAS V TO ATI TEAS 6
The Reading section of the TEAS 6 remains as a variety of subjects presented as a variety of subjects in a multiple choice question format.
The evaluation of changes in the Reading section of TEAS 6 reflects greater emphasis on current entry-level nursing school curriculum with an expansion of content and additional time in which to do it.
TEAS V allowed 58 minutes for 48 questions; with TEAS 6 you will now have 64 minutes for 53 questions in three categories.
The categories are: Integration of Knowledge, Craft and Structure, and Key Ideas and Details.
There are six questions which do not count toward your score. These might be in any of the three categories.
Let's look more closely at each of the three categories.
CATEGORY 1: INTEGRATION OF KNOWLEDGE AND IDEAS
Do not be intimidated by this name, "Integration of Knowledge and Ideas"; as a student, you are already familiar with its practice. You've been doing it all along.
This category is only about the usage of evidence and related sources in writing. At 11 questions, it is the shortest of the four categories.
First, you will want to remind yourself that this TEAS 6 section is entitled "READING" and you will want to prepare yourself to do just that: read. Closely. For understanding, you will want to first consider the writer's point-of-view. Then, as you read on, consider the evidence they present and how (whether or not) it supports their claims. What do you draw from them? If they have used reference materials, evaluate whether they were primary or secondary.
Again, because this category is only about the usage of evidence and related sources in writing, you'll be working with evidence – claims; data – in many ways:
You will analyze information and the assertions made, whether by text or graphics.
You need to know how to differentiate between primary and secondary sources.
You may examine two resources, differentiating between their similarities and differences.
You may read a passage and create inferences, supporting your conclusions with the text.
CATEGORY 2: CRAFT AND STRUCTURE
Just like builders build buildings from materials, writers craft and structure their writings by organizing and framing the materials – content – they want to display, portray, and convey to you, their reader.
Consider:
Did they use content in a meaningful way?
What statements were subjective?
What statements were objective?
What was the writer's stance on a particular topic?
Why was the stance crafted the way it was?
Many ways a writer can organize his/her work
Defining a word (perhaps one with which you were not familiar) by its context
Use of rhetoric – the art of effective or persuasive writing – and other devices to glean the author's intent
There are 14 questions in this category.
Finally, language usage is of particular importance in Craft and Structure. How did the author present stance, use language, and organize arguments?
CATEGORY 3: KEY IDEAS AND DETAILS
Key Ideas and Details is the longest Reading category at 22 questions. Here is another aspect of reading understanding that is important and relevant to your nursing career, for it is here you will confirm these skills:
Identifying a work's sequential patterns
Condensing a work that is complicated and/or lengthy into a synopsis
Selecting needed data from various source types
Creating your own inference based on a text you read
Understanding and following directions
Recognizing evidence, central theme, and subject of a work
KEYS TO SUCCEEDING IN "READING"
Because there is a time limit in every category, you might feel rushed. Try not to be dissuaded from the recommendation to read over each presented reading twice. While it might sound like an oversimplification, it is a fact: this overall category name – Reading – is the primary key to your success in the test of the category. Reading closely. Reading thoroughly. Reading with the above given detailed points in mind.
When you read closely, you assure yourself you are getting a good overall understanding, not missing any obvious important information such as instruction-centered material for questions.
When you read thoroughly – perhaps going over a passage twice – you assure yourself you are not missing any imperative details and have a good grasp of the subject matter.
When you read with the above enumerated points in mind, you assure yourself you will be ready to handle the TEAS 6 Reading category.
Remember, as you are reading, think about what the author has intended to communicate; what the central theme of the work is – what it is about; and, what the evidence is and how it supported the claims of the work.
FINALLY:
You will encounter forms of graphical data to interpret, a relevant part of nursing because of charts and other documents regarding patients' health. Give these the credence of the written works.
Pacing yourself is imperative. You are not new to schoolwork and testing, so you already know how important it is to be thorough but not so thorough as to be bogged down in a certain category. Here are some keys:
Work efficiently
Don't linger on something you don't understand or recognize
Use the process of elimination, particularly when you are "stuck"
Use Mometrix published resources to brush up on test-taking skills

Comprehensive TEAS 6 study guide
TEAS 6 Reading practice test
TEAS 6 Reading flash cards
Once again, Mometrix has a singleness of purpose: to help you enter each of the four TEAS phases prepared, not only so you will pass, but that you might excel in each category.