Writing clearly and concisely and in a way that makes sense takes practice. That's why students need teachers who have demonstrated they have the skills to teach writing. Educators in Missouri take the Missouri Educator Gateway Assessment (MoGEA), an exam that covers four key subjects of reading, math, science and social studies, and writing. We're covering the writing portion of the exam in this guide. The Missouri Department of Elementary and Secondary Education administers the assessment, which is given to educators who want to teach these four core subjects. In addition to looking at what the writing subtest entails, this guide also contains a suggestion for an outstanding study guide that can help you prepare for the exam.
How many sections of the test do I have to pass in order to pass the Missouri Educator Gateway Assessment?
Candidates must pass all four subtests to pass the exam.
How many questions are on the Missouri Educator Gateway Assessment Writing test?
There's just one question on this subtest.
How much time do candidates have to complete this one question?
There's a 60-minute test time for the writing subtest.
When can I take the exam?
The exam is available all year round. You can check availability when registering for the test.
Where can I take the test?
A private test company, hired by the Missouri Department of Elementary and Secondary Education, delivers the test to candidates. This private company has testing centers across Missouri. Candidates can do an online search to find the center nearest to them.
What's the fee to take the Writing subtest?
Candidates pay a $25 test fee.
When will I be able to access my test scores?
Candidates can access their test scores roughly two to six weeks after taking take the exam.
What's on the test?
The MoGEA Writing subtest has just one question.  Candidates must write a single composition that is clear and coherent.  Candidates will be asked to read a passage with an opposing viewpoint, and then write a 400 to 600-word response. The writing portion of the exam shows candidates can:
Produce writing that is focused, coherent, and unified
Use words, phrases, and clauses to effectively link text sections and create cohesive writing
Uses thesis statements to introduce and develop ideas.
Understand sentence structure
Understand standard conventions of English
Understand capitalization, spelling, and punctuation.
What is the exam's passing score?
The subtest passing scores are set by the individual educator prep program. Candidates should consult with their program.
When should I arrive at the test center?
Candidates should arrive at least 15 minutes early on exam day.
Will I need to show my identification at the test center?
Yes. Candidates must show a government-issued ID. A driver's license or passport will do.
What personal items can I bring into the test room?
None. There are strict rules that govern items banned from the testing room. Those items include all electric devices, mobile phones, certain clothing items, and calculators. Candidates can access the full list of banned items online.   
What study materials will help me best prepare for the Missouri Educator Gateway Assessment Writing subtest?
Mometrix has the study materials you need. Our study guide has been written by professionals in the test-taking field experienced in test preparation methods. Our guide offers tips on overcoming test anxiety, tackling tough questions, a method for picking the rights answers, and much more. Our flashcards let you study whenever you have just a little bit of time. You can study by yourself or ask family or friends to quiz you.  These are outstanding tools to help you prepare for this tough test.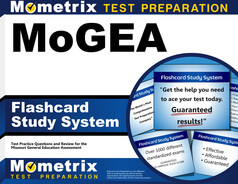 MoGEA Flashcards. Proven MoGEA test flashcards raise your score on the MoGEA test. Guaranteed.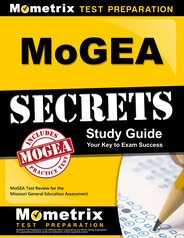 Prepare with our MoGEA Study Guide and Practice Questions. Print or eBook. Guaranteed to raise your score. Get started today!