In Missouri, educators must take the Missouri Educator Gateway Assessment (MoGEA), an exam administered by the Missouri Department of Elementary and Secondary Education The exam contains four subtests in reading, math, science and social studies, and writing.

How many questions are on the MoGEA Reading Comprehension and Interpretation subtest?
Candidates must complete 39 multiple-choice questions.
How much time do candidates have to finish this area of the test?
Candidates have 75 minutes to finish the reading subtest.
When can I take the exam?
The test is available by appointment, year-round. Candidates will see availability during exam registration.
Where can I take the exam?
The Missouri Department of Elementary and Secondary Education has hired a third-party company to deliver the exam to students. The company has offices in Missouri. Candidates can search for locations nearest them during the registration process.
What is the fee to take the Reading subtest?
It cost $25 to take the subtest.
When are test scores available?
Test scores will be released roughly two six weeks after the test date.
What is the exam's passing score?
The education preparation program sets the subtest passing scores.  Candidates should check with their program.
What's on the test?
The MoGEA Reading Comprehension and Interpretation subtest contains three sections. Each section includes roughly one-third of the exam's questions.
Literacy Comprehension. This section asks candidates to exam college-level texts to identify main ideas and supporting details. Other topics include:

Assessing text for central ideas or themes
Identifying main ideas and themes of the text, including recognizing information, ideas, and details.
Analyzing text for the meaning of words and phrases by applying word structure, context, and syntax knowledge.
Understanding how word choice impacts meaning and tone.
Assessing the main and key supporting ideas in a summary or outline.

Inference and Interpretation. Candidates will be tested on the ability to analyze college texts to draw inferences and make interpretations. Topics include:

Analyzing writing to determine a writer's purpose
Understanding the tone, opinion, and point of view of the writer
Understanding how a writer can impact readers through word choice
Examining ideas on text to determine similarities and differences
Examining stated or implied text to draw conclusions.

Critical Reasoning and Evaluation. Candidates must exam college text through critical-reasoning skills. Topics include:

Determining the difference between fact and opinion in text
Recognizing techniques writers use to connect with readers including emotion, logic, and ethics.
Analyzing a writer's reasoning for strengths and weaknesses
Assessing text for credibility, accuracy, objectivity, and information bias.
When should I arrive at the test center?
Please arrive at least 15 minutes before your test time. You don't want to be late because late arrivals might not be allowed to take the exam.
What identification will I need to bring on test day?
Candidates must bring a piece of valid and current government-issued identification. A driver's license and passport are acceptable forms of identification.
What items are banned from the test room?
There are strict security measures in place at the test center. Candidates are not allowed to bring in, among other items, mobile phones, all electronic devices, calculators, and certain items of clothing. Please consult the test center rules for a complete list of items.
What are the best study materials help me prepare for the Missouri Educator Gateway Assessment Reading and Interpretation section?
Mometrix has an excellent group of study materials. Our study guide will show you how to decipher questions and look for clues that can reveal the correct answers to tough questions. Professionals in the test-taking field have written our study guide, so you're getting tremendous expertise.
Our flashcards are an excellent tool that allows you to study on the go. Take our large, portable cards anywhere you go and take some study time even when you only have a few minutes. These are the best study materials you can get.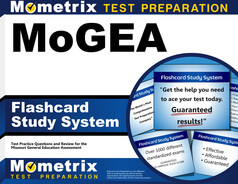 MoGEA Flashcards. Proven MoGEA test flashcards raise your score on the MoGEA test. Guaranteed.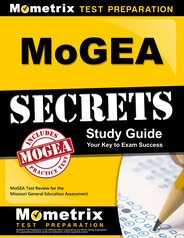 Prepare with our MoGEA Study Guide and Practice Questions. Print or eBook. Guaranteed to raise your score. Get started today!