Science and social studies are important aspects of any student's learning journey. That's why in Missouri, educators who want to teach science and social studies can take this subtest of the Missouri Educator Gateway Assessment (MoGEA). It is important to note that this subtest is optional.
What's on the test?
The MoGEA Science and Social Studies subtest includes four categories. Each category contains 25 percent of the exam questions.
Fundamental Scientific Concepts. This section examines life, physical, and Earth sciences in the areas of:
Patterns and concepts of structure
Scale, proportion, and quantity
Energy and matter
Systems and systems models
Science Inquiry and Literacy Skills. Topics include:
Scientific inquiry, formulating a hypothesis, and conducting investigations
Scientific theory and law and the differences between the two
Terminology used in undergraduate science texts
Science ideas in textbooks and popular media
Science, technology, and societal relationships
Fundamental Social Studies Concepts. Topics include:
Conflict and revolution in history
Geography concepts, including location, region, and movement
Economics and Government, including constitutional democracy
Social Studies Inquiry and Literacy Skills. Topics include:
Social studies research in posing questions, hypothesis formulation, and challenging claims
Reference, primary and secondary, and technological sources in social studies
Social studies documents and the ability to understand fact from opinion, bias recognition, and assumptions.
How many questions are on the Science and Social Studies subtest?
There are 40 questions on the Science and Social Studies subtest.
What's the test time for this subtest?
Candidates have 60 minutes to finish the Science and Social Studies subtest.
How much is the science and social studies subtest fee?
Candidates pay a $25 test fee.
What is the exam's passing score?
The individual education preparation program sets the subtest passing scores.  Candidates should check with their program.
What study materials will help me best prepare for the exam?
The study guide and flashcards from Mometrix are excellent tools to help you prepare for the Missouri Educator Gateway Assessment. Our study guide includes tips on tackling questions that tend to trip up test-takers and shows you how to look for clues that can provide the right or wrong answer. Our flashcards are a quick study tool that lets you study no matter where you. Even if you just have a few minutes, the flashcards will help you study via repetition, an extremely valuable form of learning. These are the study tools that you need to prepare.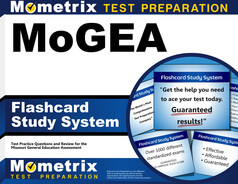 MoGEA Flashcards. Proven MoGEA test flashcards raise your score on the MoGEA test. Guaranteed.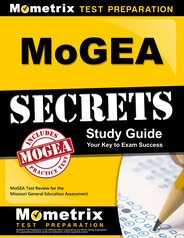 Prepare with our MoGEA Study Guide and Practice Questions. Print or eBook. Guaranteed to raise your score. Get started today!