Across the country, the Health Education Systems, Inc (HESI) offers the Admission Assessment (A2) as a tool for nursing programs to evaluate their programs' candidates. The HESI A2 exam consists of seven tests – Mathematics, Reading Comprehension, Vocabulary, Grammar, Biology, Chemistry, and Anatomy and Physiology. Each program identifies the subtests they require their candidates to take, and set the passing scores for the required tests.
This article discusses the HESI A2 Mathematics subtest.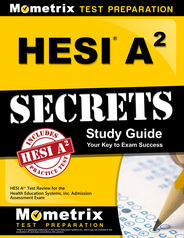 Purpose of the HESI A2 Mathematics subtest
The subtest is designed to evaluate your knowledge of basic mathematical concepts, and each question is typically correlated with health-related scenarios. Nurses use math every day as they carry out their duties, so you need to have the confidence and ability to use math quickly and accurately.
Do I have to take the HESI A2 Mathematics subtest?
Every nursing program determines what assessments you need to take as a part of your application packet. The math subtest is no exception. While there is a chance that you will not have to take this subtest, the chances are good that you will have to. Math is an integral part of a nurse's daily duties; it stands to reason that your nursing program will want to ensure you have the necessary skills and knowledge to build on. Information on what tests, if any, are required by your nursing program, ask your program advisor, or check the program's website.
My program requires the test. How do I register?
Registering for any of the HESI A2 subtests is an easy process and done through your chosen nursing program school as a part of your application. Often the exam(s) are offered on campus, and the program determines testing dates and times. Because you have to pass the HESI A2 subtests to include them in your application, make sure you schedule the test(s) far enough before the application deadline, so you have time to study, take the exam(s), and retake the test(s) you did not pass.
Test design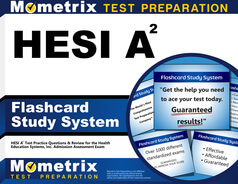 HESI A2 Flashcards. Proven HESI A2 test flashcards raise your score on the HESI A2 test. Guaranteed.
The HESI math questions evaluate a candidate's knowledge of basic math and mathematical concepts and apply that knowledge to presented scenarios. Content includes your understanding of Roman numerals, word problems, calculating dosages, household measures, and conversions.
The subtest is computer-delivered and contains 55 multiple-choice questions. Each question has four possible solutions; there is only one correct answer. Topics included in the Mathematics subtest are:
Addition and Subtraction
Whole numbers – multiplication and division
Algebra
Decimals – placement, multiplication, division, and conversion to fractions
Fractions – multiplication, division, and conversion
Ratios and proportions
Percentages
Military time
Measures and conversions
Word problems – understanding, determining, and solving for the asked or implied solution
You have 50 minutes to complete the exam, and an on-screen calculator is available for your use.
What can I expect on test day?
Arrive 15 to 30 minutes before your exam. By arriving early, you ensure you have enough time to find parking, sign the appropriate forms, and get settled before your exam begins. Early arrival also gives you time to secure items that are not allowed in the testing center back in your car.
At your testing station, you are provided everything you need for the exam, including scratch paper.
Be mindful while taking your test; time can sneak away faster than you believe. Use the on-screen tools to mark questions that you want to return to, but be sure to answer each question before moving on to the next. If you answer every question, even the ones that you are unsure of, you won't have to worry about having unanswered questions if time runs out.
When you have completed the subtest or time has run out, return your scratch paper to the test center proctor. When you turn in your scratch paper, you are provided an unofficial score report.
Did I pass?
The score report you receive on the day you take your test indicates the percentage you achieved on the subtest. Whether or not it is good enough for your chosen nursing program is another thing. Generally, scores below 75% are not passing scores. A score between 75% and 79% is considered satisfactory; a score between 80% and 89% is considered very good; and, a score between 90% and 100% is deemed to be excellent.
Seven days after your exam, an email notification identifies your test results and an individualized remediation plan (if needed).
Your future is in your hands!
The admittance process for nursing school is very competitive. Scores that can get you in on one program won't even cut the mustard in the nursing program. It is for that reason that Mometrix Test Preparation has their test experts researching every topic, formula, vocabulary word, and concept to present to you a thorough, practical guide to studying for the HESI A2 – and passing on your first attempt.
Mometrix is so confident in their test preparation tools that they have a 100% money-back guarantee. If you do not succeed on the HESI A2 and get the result you want, return the study guide, step-by-step videos, and flashcards for a return of every cent. There's too much riding on your acceptance to nursing school, don't waste a minute using ineffective study guides.