The High School Placement Test (HSPT) is primarily used by independent and Catholic high schools to select students for admission into grade nine. Five component tests and three optional component tests comprise the HSPT. The five component tests include Verbal skills, Quantitative skills, Reading skills, Mathematics skills, and Language skills. The optional components that do not count towards a student's composite score include Science, Religion, and Mechanical Aptitude. Most often the optional tests are used by a school to determine advanced placement courses. The five standard tests are used to predict a student's academic achievement in a rigorous high school program.
This article discusses the Quantitative component of the HSPT exam.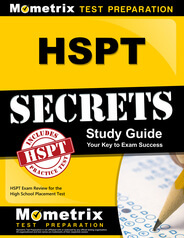 Prepare with our HSPT Study Guide and Practice Questions. Print or eBook. Guaranteed to raise your score. Get started today!
Registration Information
Independent and Parochial schools have a rigorous application process, and they use the Scholastic Testing Service HSPT as one of the many determining factors for admission. The registration fee for the HSPT is usually included in the application fee, but if it is not, your school admissions counselor will inform you of the testing fee.
January is the most common month for delivery of the HSPT. Admission information, including test delivery dates, location, and minimum acceptable scores, are available from your admissions counselor at your prospective school. Questions about specific policies, deadlines, and costs should be directed to the admissions staff at your school.
HSPT Quantitative test section design
The HSPT is an "old-fashioned" test – it is a written exam where the only supplies you are given are a test booklet and answer sheet. You need to bring two Number 2 pencils; mechanical pencils are not permitted, and pencil sharpeners may not be available. You cannot use a calculator during any portion of the HSPT.
The HSPT Quantitative test consists of 52 multiple-choice questions, and you are allowed 30 minutes to complete the Quantitative section. Topics within the Quantitative section include addition, subtraction, algebra, and geometry. Content areas include:
Number series – 18 questions
A number series is an operation of adding quantities, one after the other, to a given start quantity. Questions in this section ask you to determine a series structure and then predict the next quantity.
Geometric comparison – 9 questions
The topics in this portion ask you to compare two quantities and determine which of the provided statements describes the comparison.
Non-geometric comparison – 8 questions
Non-geometric comparison tests your understanding of the order of mathematical operations.
Number manipulation – 18 questions
Questions in this area test your ability to arrange numbers to find an unknown value of an algebraic equation.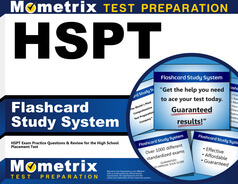 HSPT Flashcards. Proven HSPT test flashcards raise your score on the HSPT test. Guaranteed.
Test day
On the day of your exam, arrive with enough time to settle in at your testing station. Check your supplies, pay attention to the instructions, and prepare to start the test. Do not start the exam until you are told to do so by the test proctor.
During your exam, read each question and possible answer thoroughly. Select the most appropriate answer and move on to the next question. You have just 30 minutes to work through the 52 questions, so do not spend too much time on each question. If you are having difficulty with a question, mark it in your test booklet and come back to it once you have completed the exam if time remains. You are not penalized for incorrect answers; guess if you have to.
Scoring
Your composite score is a combination of all HSPT component tests. Your raw score is the total number of correct answers, and your scaled score is derived from your raw score. The scale ranges from 200 to 800, and 600 is generally accepted as "above average."
Your test results are sent to each school you indicated when you registered. While each school has different standards, it is accepted that the higher your score, the better your chances are for admittance. The HSPT is administered to rising ninth-grade students only.
Get a head start on your high school admission
The HSPT is a diagnostic admissions test. The purpose of the HSPT is two-fold – to identify the top candidates and narrow the application pool. In combination with other factors, your HSPT score determines your likelihood of succeeding in high school. The better your score, the better your chances of being selected for admission to your top choice school. Once admitted to your school, your test results are used to inform your academic schedule.
The HSPT is the first step to a momentous high school career. If you want to be admitted to the school of your choice, a high HSPT score is needed. Luckily, Mometrix Test Preparation's experts have researched each area of the HSPT to provide the most inclusive study suite possible. A study guide, comprehensive online course, and flashcards give you the advantage you need to start your high school career on the right foot. Mometrix is confident in the system that they developed – if you are not satisfied, you get 100% of your money back with no questions asked.