The CASA—Writing test is one of three required subtests in an assessment of academic skills created to guide qualified educator candidates to teacher licensure in the State of Indiana. Each CASA subtest was created to evaluate teaching candidates' knowledge and skills in adherence to Indiana's strict Rules for Educator Preparation and Accountability (REPA) Educator Standards. The CASA—Writing test in particular covers key objectives and standards delineated by the State of Indiana to ensure Indiana students receive a rigorous, high-quality education from the most qualified educators.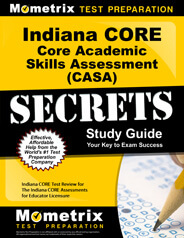 Prepare with our Indiana CORE CASA Study Guide and Practice Questions. Print or eBook. Guaranteed to raise your score. Get started today!
What are the eligibility requirements to take the CASA—Writing test?
Candidates are able to take the CASA—Writing test on its own, or concurrent with the other CASA subtests. To take the CASA—Writing test, you must meet the teacher credentialing standards set forth by the Indiana Department of Education. Elementary teachers (grades K-6) must earn a bachelor's degree in a writing-related major with an education minor, or a bachelor's degree in education with a minor in a writing-related field. Secondary teachers (grades 5-12) must earn a bachelor's degree in a writing-related field with a minor in education.
What fees are associated with the CASA—Writing test?
The CASA—Writing test costs $38 on its own (you will pay $38 for each CASA subtest). You can pay your test fee during the online registration process using a credit or debit card. If you want to pay by check, contact Evaluation Systems from the Indiana CORE website to arrange payment.  Please note: some testing centers may charge additional fees, typically paid directly to the testing center.
What is the passing score for the CASA—Writing test?
To pass the CASA—Writing test, you must receive a score of at least 220. As an important note, State of Indiana teaching candidates must pass all three CASA subtests in order to qualify for educator licensure. If you take the CASA—Writing test individually or at the same time as the other required CASA subtests, your official score report will be available within 20 business days of your test date.
What does the CASA—Writing test cover?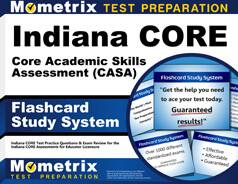 Indiana CORE CASA Flashcards. Proven Indiana CORE CASA test flashcards raise your score on the Indiana CORE CASA test. Guaranteed.
The CASA—Writing test is a computer-delivered exam that consists of 42 multiple-choice questions and one (1) constructed response. You will be allotted 105 minutes to complete the entirety of the test. In terms of content, the CASA—Writing test consists of two content domains covering specific objective ranges, standards, and related topics. The test's content domains, objectives, standards, and approximate weighted percentages are as follows:
Domain I: Foundations of effective writing, objectives 0009-0011, Standards 5-7, 60%

Objective 0009: Clear and coherent writing, Standard 5

Understanding of how to produce coherent, clear writing with audience, task, and purpose-appropriate development, organization, and style

Including: recognizing effective writing for a given audience, occasion, or purpose; strategies for achieving focus and unity; logical sequences of ideas and sentence structure; effective thesis statements, topics, and supporting details, etc.

Objective 0010: Strong and developed writing, Standard 6

Understanding of development and strengthening of writing through editing, revising, rewriting, or trying new approaches

Including: editing text to effective introduce ideas, conclude, coordinate or subordinate ideas, and create or improve the structure of ideas, phrases or words; revising text to eliminate distracting or unnecessary information, achieve precision, eliminate redundancy, etc.

Objective 0011: Grammar, usage, and mechanics, Standard 7

Understanding of standard English language conventions, including grammar, mechanics, and usage

Including: applying standard use of verbs, pronouns, adjectives, adverbs, prepositions, subject-verb agreement, pronoun-antecedent agreement, comparatives, superlatives, possessives, etc.
Domain II: Writing assignment, objective 12, Standard 8, 40%

Objective 0012: Writing assignment, Standard 8

Demonstrating the ability to write an analysis including arguments that support claims and use valid reasoning and sufficient relevant evidence

Including: analyzing claims in a substantive informational text, writing arguments to support claims using clear reasoning and evidence, maintaining focus on key ideas, using a clear thesis statement, organizing ideas effectively, etc.
Test Preparation
The most effective method of ensuring you perform your best on the CASA—Writing test is to prepare using the most comprehensive test preparation materials available. Mometrix Test Preparation's Indiana CORE Secrets study guide includes exactly what you need.  The Indiana CORE Secrets study guide contains authentic Indiana CORE exam content, as well as professional tips for reducing test anxiety, boosting information recall, and improving overall test performance. In addition to the Indiana CORE Secrets study guide, Mometrix offers a complete CORE Practice Test, along with the most comprehensive set of Indiana CORE Flashcards on the market. Pass the CASA—Writing subtest on your first attempt by reading the Indiana CORE Secrets study guide, assessing your knowledge and skills with the Indiana CORE Practice Test, and improving your recall with the Indiana CORE Flashcards.