The Evolve Reach Admission Assessment Exam, formerly known as the HESI A2, is a computer-based test used as an admissions exam for various nursing programs. The test is given as a way to assess academic readiness and is used by those in nursing education as a predictor for success in the first year of nursing programs.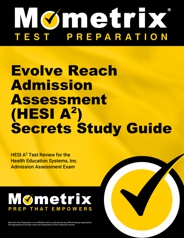 Prepare with our Evolve Reach Study Guide and Practice Questions. Print or eBook. Guaranteed to raise your score. Get started today!
The test includes items on reading comprehension, vocabulary and general knowledge, grammar, basic math skills (needed for health care), biology, chemistry, and anatomy and physiology. In addition to the exam, the test taker's personality is profiled and learning style is assessed.
Not all nursing programs require all sections to be taken-students are encouraged to find out from each of the schools they are applying to what test sections they require and also if they have any minimum scores necessary in order to be considered for admittance. Schools do not guarantee admittance to their program solely on the results of the HESI A2.
Test takers will have four hours to take the entire exam and have complete choice as to how many of the individual exams they will take in that time frame.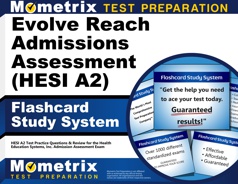 Evolve Reach Flashcards. Proven Evolve Reach test flashcards raise your score on the Evolve Reach test. Guaranteed.
Retaking the test is allowed, but schools vary in how quickly those seeking admittance to their program can retake the test. Some, for example, require that the test be taken only once in a 12-month period, while others permit retaking it much more quickly. Therefore, it is important to carefully consider the best time to take the test. Factors that should be taken into consideration are application deadlines for various schools, how much time is enough to prepare for the exam, and a variety of others.
The test can be taken at various testing centers across the country, though the test is not offered during certain weeks of the year, such as during exam weeks at testing centers on college campuses. Students should also be advised that many other students need to take the HESI A2 and other standardized tests often at the same time of the year, and early registration is strongly encouraged in order to ensure a spot in a testing center. If students are interested in applying to schools not affiliated with one another, there may be additional fees incurred for sending test scores to other programs.
The HESI A2 can only be taken on the computer and there are no options to take the exam with a pencil and paper. If a student with disabilities requires additional accommodations, however, certain accommodations can be made, but students are encouraged to contact the schools they are applying to in order to learn exactly what accommodations they will accept.
Students need to bring to the testing center both a picture ID and the receipt for purchase of the test that was made available to them online when they registered for the test. No electronic devices are allowed in the testing center. The center will provide a basic calculator and scratch paper.
Students are strongly advised to set aside ample time in order to prepare for the exam. Many schools have study materials available in their bookstores, and a number of study guides are available at a variety of online retail outlets as well. It is strongly recommended that the HESI A2 is completed before the nursing application is complete. Others recommend that the exam be taken after completing any needed development courses in reading, writing, or math.
Results of the exam will be made available to students immediately. A printed score report will be provided in the testing center. Within two to four days, an email will also be sent indicating that both results and an online individualized remediation plan are available via the online account that was used in order to register for the exam. Many programs will require that, for those who enter their program, the remediation plan will be used to improve their chance for success.
Self-Assessment Modules