The free HiSET Language Arts Reading practice test is specifically designed to ensure that the test-taker is knowledgeable about the HiSET and is able to know what to expect when it is time to take the Language Arts Reading portion of the HiSET.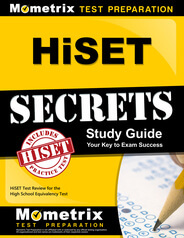 The Language Arts Reading portion will consist of 40 multiple-choice questions that will address three main topics.
These topics are as follows:
Understanding Literary and Informational Texts
Interpreting Literary and Informational Texts
Analyzing Literary and Informational Texts
Texts will be derived from a wide range of styles such as:
Texts typically are between 400 to 600 words.
Due to our foreknowledge of the domains of this test, we have ensured that the HiSET Language Arts Reading practice test will cover these topics thoroughly.
When taking this portion of the HiSET, you will have sixty-five minutes to complete the section.