The free HiSET Mathematics practice test is specifically designed to ensure that the test-taker is knowledgeable about the HiSET and is able to know what to expect when it is time to take the Mathematics portion of the HiSET.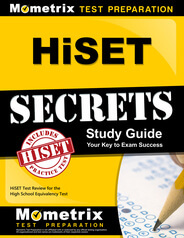 The Mathematics portion will consist of 50 multiple-choice questions that will address ten main topics.
These topics are as follows:
During the test the test-taker is allowed to bring and use a calculator.
The test-taker must be able to solve practical problems as well as answer questions related to abstract concepts.
Due to our foreknowledge of the domains of this test, we have made sure that the HiSET Mathematics practice test will cover these topics thoroughly.
When taking this portion of the HiSET, you will have 90 minutes to complete the section.