In high school, many students take electives that will prepare them for college, careers and adulthood. With business and technology the cores of the U.S. economy, many schools are focusing on these subjects. In order to teach these highly specialized disciplines in Michigan, full-time teachers must become certified. In order to prove their proficiency, it is mandatory that they pass the MTTC Business, Management, Marketing, and Technology Exam.
This test consists of 100 multiple-choice questions that must be completed in a certain amount of time, based on the application method (paper or computer). A score of 220 is considered passing.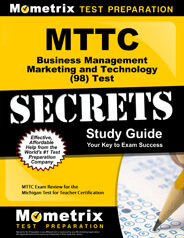 Prepare with our MTTC Business Management Marketing and Technology Study Guide and Practice Questions. Print or eBook. Guaranteed to raise your score. Get started today!
The test is comprised of four subareas, all weighted at 25% each:
business
management
marketing
technology
For the business subarea, you will be assessed on your knowledge of accounting cycles, systems, principles of law, principles of math and principles of business communication.
For the management subarea, be prepared to answer questions about business management, human resources, microeconomics, macroeconomics and personal finance.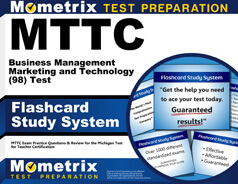 MTTC Business Management Marketing and Technology Flashcards. Proven MTTC test flashcards raise your score on the MTTC Business Management Marketing and Technology test. Guaranteed.
The marketing subarea covers topics such as marketing principles, financial concepts used in decision making, entrepreneurship, international trade, economic principles, and procedures for starting and maintaining a career in business.
The technology subarea will have questions pertaining to information systems, the role of technology in a business environment, technology tools, technology's influence in organizational systems and professional ethics.
To succeed in these four areas, turn to the Mometrix Test Prep Team. They have created useful study aids to help you achieve passing scores the first time around. The MTTC Business, Management, Marketing, and Technology Practice Test will help you understand the rules and format of the test so there will be no surprises on test day.
Enhance your understanding of the material even more by opting for the MTTC Business, Management, Marketing, and Technology Test. You'll learn useful tips for studying so you can pass the exam with ease and get started on an exciting career teaching business, marketing, management or technology to Michigan students.