Science is all around us, from the weather to the plants to the rocks and landscape to the animals. It's important for students to become familiar with their surroundings, but it's equally important that they are taught by educators who are knowledgeable about the subject matter. That's why Michigan requires those looking to teach earth and space science to pass the MTTC Earth/Space Science Exam.
The MTTC Earth/Space Science Test consists of 100 multiple-choice questions. You must obtain a score of 220 or higher to pass and receive certification. You will be given the option of taking a computer-based or paper-based test.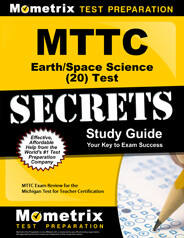 Prepare with our MTTC Earth/Space Science Study Guide and Practice Questions. Print or eBook. Guaranteed to raise your score. Get started today!
The exam is comprised of five subareas, all weighted at 20% each:
foundations of scientific inquiry
physical and historical geography
oceanography and freshwater systems
meteorology
astronomy
The test covers numerous concepts, including conducting scientific research, earth/space science and its relationship to society, relationship of science and technology, structure and processes of the earth, volcanism, earthquakes, erosion, relative and absolute dating, formation and use of geologic resources, the marine system, hydrologic cycle, groundwater, freshwater systems, relationship between hydrosphere and human activity, atmospheric conditions, weather and climate, clouds, precipitation, causes of weather, climate systems, atmosphere and human activity, sun-earth-moon system, solar system, stellar evolution, universe and the history of astronomy.

MTTC Earth/Space Science Flashcards. Proven MTTC Earth/Space Science test flashcards raise your score on the MTTC Earth/Space Science test. Guaranteed.
Not many people enjoy studying, but it's a must in order to pass most tests, and the MTTC Earth/Space Science Exam is no exception. The good news is that the Mometrix Test Prep Team has created some study materials that can help. The MTTC Earth/Space Science Practice Test will show you how questions are presented on the real test so you can be prepared.
Another great tool is the MTTC Earth/Space Science Test. This study aid provides an outline of the test and offers helpful study tips so you know exactly what to study in order to pass the first time.