A required step of Michigan's teacher certification is the Michigan Test for Teacher Certification (MTTC). These examinations will ensure that each certified teacher has the necessary professional readiness and content knowledge to serve in Michigan schools. To become certified to teach language arts for elementary children in the state of Michigan, you must take and pass the MTTC Language Arts (Elementary) (090) Test, an MTTC subject area test. Here at Mometrix, we have designed a practice test for you to use in your studies for this exam.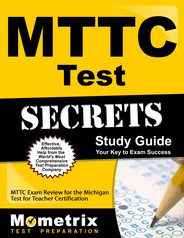 Prepare with our MTTC Study Guide and Practice Questions. Print or eBook. Guaranteed to raise your score. Get started today!
You may take this exam in either a paper-based test (PBT) format or a computer-based test (CBT) format.
Each type of exam format requires the same amount of questions answered in the same subject area breakdowns.
The scoring criterion is also the same for each, however the time you are allowed for each test will be different.
For the PBT you are allowed 4 hours and 30 minutes to complete the test, while you are allowed 2 hours and 30 minutes for the CBT.
The test format of both the PBT and CBT for the MTTC Language Arts (Elementary) (090) Test is 100 multiple choice questions in the following subareas: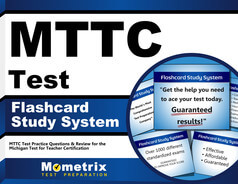 MTTC Flashcards. Proven MTTC test flashcards raise your score on the MTTC test. Guaranteed.
Meaning and Communication (28%)
Literature, Genre, and Craft (36%)
Skills and Processes (36%)
Each type of exam requires a passing score of 220.
Whether you choose the PBT or the CBT, check out the Mometrix Language Arts (Elementary) (090) practice test! Ensure you are prepared to pass your MTTC exam on your testing day and get ready to become a certified teacher!
Click Here for MTTC Practice Test