Many schools tend to focus on academics, but the arts are also an important part of the learning experience. While music is a hobby for many people, it's also a way to help enhance learning, especially in school-age children. That's why many schools have music programs. In Michigan, music teachers must become accredited by passing the MTTC Music Education Exam.
The MTTC Music Education Test consists of 100 multiple-choice questions. You can choose from either a computer-based or paper-based format.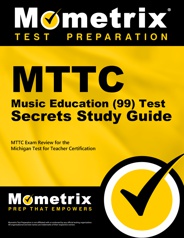 Prepare with our MTTC Music Education Study Guide and Practice Questions. Print or eBook. Guaranteed to raise your score. Get started today!
You must get a score of at least 220 to pass.
The exam consists of five subareas:
listening skills and music education (36%)
music theory (16%)
music history (16%)
music creation (16%)
performance (16%)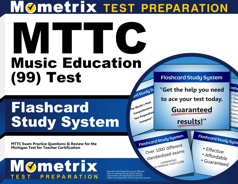 MTTC Music Education Flashcards. Proven MTTC Music Education test flashcards raise your score on the MTTC Music Education test. Guaranteed.
There are numerous topics that will be presented on the exam. They include elements of melody and harmony, elements of rhythm and tempo, expressive elements in a musical performance, historical and cultural content in a musical performance, written score and musical performance, European music, American music, world music, composition and arrangement techniques, and adaptation of music.
The test will also cover singing and vocal performance, instruments and performance, musical ensembles, rehearsal and conducting skills, professional context of music education, music pedagogy, music instruction, environments for learning and performance, use of technology in music and music education, and careers in music.
Make sure test day is a success by taking part in the MTTC Music Education Practice Test. This free study tool from the Mometrix Test Prep Team simulates the real test, so you'll know what type of format to expect on the day of your test. You'll also get a good idea of your strengths and weaknesses.
Combine it with the MTTC Music Education Test for an even higher score. You'll get tips to help you study with the utmost efficiency. You'll feel more relaxed and less stressed when you take the real test.