Politics are a source of debate in our society, thanks to the recent elections. Many experts strive to explain political behavior and the actions of the government. Students looking to pursue a career in government or politics would do well to take political science courses. To teach these classes to Michigan students, prospective educators are required to pass the MTTC Political Science Exam.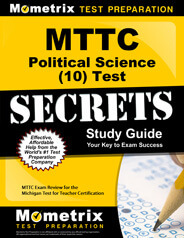 Prepare with our MTTC Political Science Study Guide and Practice Questions. Print or eBook. Guaranteed to raise your score. Get started today!
The MTTC Political Science Test is similar to most other MTTC exams in that it consists of 100 multiple-choice questions.
The test is available in computer and paper formats.
A passing score of 220 is required.
The exam consists of four subareas. A large portion of the test (40%) focuses on foundations and operation of government in the United States. The remaining subareas are political science concepts and skills, the political process and United States citizenship, and interdisciplinary perspectives.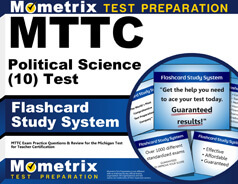 MTTC Political Science Flashcards. Proven MTTC Political Science test flashcards raise your score on the MTTC Political Science test. Guaranteed.
For the test, you will be required to know about political science terms, types of government, research and analysis, principles of government, values of democracy, landmark court decisions, the U.S. legal system, functions and operation of the federal government, functions of state and local governments in Michigan, international relations, U.S. foreign policy, political parties, U.S. electoral system, U.S. citizenship, relationship between history and political science, relationship between geography and political science, relationship between economics and political science, and public policy.
Take the stress out of test taking by taking the free MTTC Political Science Practice Test. This study aid mimics the real test, so you'll gain a better understanding of what to expect instead of seeing an unfamiliar format and becoming anxious.
The MTTC Political Science Test is a valuable resource for test takers wanting to narrow down the concepts and focus on only the items that pertain to the test. It's better than wasting your time studying random political science concepts that won't be on the test. Consider these resources and make your dream of teaching political science a reality.