Think you have what it takes to teach in a Michigan school? In order to satisfy the state's strict academic requirements, you must first become certified. All prospective educators looking to teach in the state of Michigan must pass the MTTC Professional Readiness Examination Exam before stepping foot into a classroom.
The MTTC Professional Readiness Examination Test is comprised of three subtests: reading, writing and math.
You must score at least 220 on each subtest in order to pass and move on to a teaching career. The reading subtest has 42 multiple-choice questions.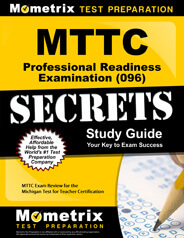 Prepare with our MTTC Professional Readiness Examination Study Guide and Practice Questions. Print or eBook. Guaranteed to raise your score. Get started today!
The writing portion also has 42 multiple-choice questions, plus two short-answer items. The math subtest has 45 multiple-choice questions.
The reading subtest has six subareas:
word meaning
main idea and detail
writer's purpose
idea relationships
critical reasoning
study skills.
The math subtest consists of four subareas: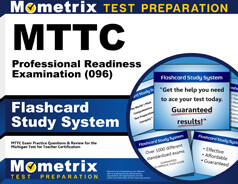 MTTC Professional Readiness Examination Flashcards. Proven MTTC test flashcards raise your score on the MTTC Professional Readiness Examination test. Guaranteed.
quantitative literacy and logic
algebra and functions
geometry and trigonometry
statistics and probability
For this subtest, you will be assessed on concepts such as number systems, algorithms, mathematical reasoning, expressions, equations, functions, graphs, geometric figures, figures in a plane, data and relationships, sampling and surveying, and probability models and calculation.
The writing subtest has two subareas: fundamentals of effective writing, and composition. Both are equally weighted at 50% each. You will be scored on your knowledge of developing ideas, organizing an essay, using appropriate focus, revising text as necessary, sentence and paragraph formation, correct usage of English grammar, analyzing and supporting claims, use of a formal style and tone, clear language and vocabulary usage, use of an appropriate introduction and conclusion, use of varied transitions and syntax, and techniques such as rhetoric, analogy and figurative language.
This exam is quite comprehensive. Make sure you are prepared by taking the MTTC Professional Readiness Examination Practice Test. The practice test is formatted to look like the real test, plus it shows you the types of questions you can expect to see. This resource is available to you free of charge, so what do you have to lose?
Technically, this test encompasses three mini tests, which can seem daunting. Consider using the MTTC Professional Readiness Examination Test to make things easier. You'll get a closer look at what the test entails and how you can efficiently study without the need for cramming. Don't delay your career in education. Try it today and watch your score improve dramatically.