Reading is a fundamental part of learning. Not knowing how to read can negatively affect one's life and make it difficult to communicate, hold down a job and perform simple tasks like writing a letter or reading a note. Reading teachers can help children with academic life and allow them the opportunity to succeed. To teach reading to Michigan students, you must first take and pass the MTTC Reading Exam.
Like most other MTTC tests, the MTTC Reading Test consists of 100 multiple-choice questions.
You can choose from two test formats: paper and computer.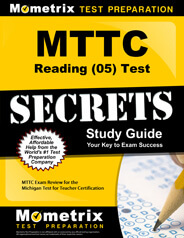 Prepare with our MTTC Reading Study Guide and Practice Questions. Print or eBook. Guaranteed to raise your score. Get started today!
You must get a score of 220 or higher to pass and become certified.
The exam covers six subareas:
meaning and communication
genres and craft of literature and language
skills and processes
instruction
assessment
professional and curriculum development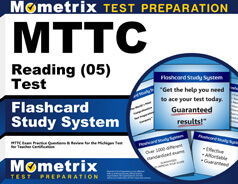 MTTC Reading Flashcards. Proven MTTC Reading test flashcards raise your score on the MTTC Reading test. Guaranteed.
You will be tested on various concepts, including reading as a dynamic process, English language arts, factors that affect learning, language development, learning acquisition, different uses of language, use of literature, literary genres, use of mechanics, promotion of literacy and creating a literate environment.
The exam will also cover topics such as developmental nature of language arts, reading comprehension strategies, study strategies, oral and written communication, vocabulary skills, literacy assessment, assisting students with reading difficulties, engagement of parents and the community, interacting with others in the community and professional growth.
Even though you know how to read, teaching it to others is easier said than done. Eliminate test day anxiety with proper preparation. The MTTC Reading Practice Test is a great way to start. This practice test is just like taking the real test. See what types of questions to expect so you can study the right way.
Another handy test prep tool is the MTTC Reading Test. This guide offers an in-depth look at the various sections of the test. Learn helpful study tips to make test day a success.