The Michigan Test for Teacher Certification (MTTC) examinations are designed to ensure that educators in the state's school system are able to meet the diverse demands and expectations of the state's society. By requiring that all candidates must pass the Professional Readiness Examination and one or more subject-area tests for teacher certification in Michigan, candidates are able to demonstrate they have the necessary professional readiness and subject-area knowledge to serve in the state's schools.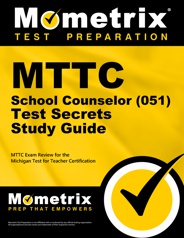 Prepare with our MTTC School Counselor Study Guide and Practice Questions. Print or eBook. Guaranteed to raise your score. Get started today!
The School Counselor examination can be administered either through paper-based testing (PBT) or computer-based testing (CBT).The multiple-choice questions cover the following three Subareas and their Objectives:
Subarea 1: Student Diversity and Assessment
This Subarea will test whether you understand diversity and equity issues in school counseling, and student assessment and evaluation.
Subarea 2: Comprehensive School Counseling Program
This Subarea will test whether you understand: the development and implementation of a developmental guidance curriculum; vocational, educational and career development and planning; responsive services.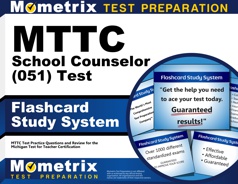 MTTC School Counselor Flashcards. Proven MTTC School Counselor test flashcards raise your score on the MTTC School Counselor test. Guaranteed.
Subarea 3: The Professional Environment
This Subarea will test whether you understand school counselor leadership skills, and professional roles and responsibilities of the school counselor.
You have a total of two or four and a half hours of total testing time to complete the 100 multiple-choice questions examination, depending on whether you choose PBT or CBT. For examples of questions you may encounter on the exam, try our MTTC School Counselor Subject Practice Test.
Scoring
The MTTC School Counselor test is criterion referenced and objective based. This means it measures a candidate's knowledge and skills in relation to an established standard. Your performance will not be scored in relation to the performance of other candidates.
Your final score is determined based on the number of correctly answered multiple-choice questions with no deduction for incorrectly answered questions. A minimum score of 220 is required for passing. A score report will be available via the internet at 10PM Eastern time on the score report date.
Registration Information
The registration cost for the School Counselor exam is $75 for PBT or $130 for CBT. Testing locations vary by test date and sessions are available either in the morning or the afternoon.