The high school curriculum in Michigan consists of social studies. While some students may not find social studies to be the most exciting subject, it gives a background as to why politics and economics are why they are what they are. Social studies encompasses topics such as history, geography, economics and political science. If you are looking to teach social studies to Michigan high school students, you will need to pass the MTTC Social Studies Secondary Exam.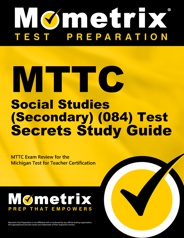 Prepare with our MTTC Social Studies (Secondary) Multiple Subjects Study Guide and Practice Questions. Print or eBook. Guaranteed to raise your score. Get started today!
Whether you decide to teach at the elementary or high school level, the test format is the same.
The MTTC Social Studies Secondary Test consists of 100 multiple-choice questions that must be completed within the allotted time.
If you choose the computer format, you are given two hours and 30 minutes. You are given four hours and 30 minutes for the paper format.
You must get a score of 220 or higher to pass and receive certification.
There are seven subareas to study for: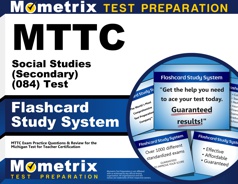 MTTC Social Studies (Secondary) Flashcards. Proven MTTC test flashcards raise your score on the MTTC Social Studies (Secondary) test. Guaranteed.
historical perspectives
world history
U.S. history
geography
political science
economics
inquiry and public discourse
You will be assessed on your knowledge of historical terms, timelines, sources of historical information, major events in world history, global crisis, major wars, development of colonies, slave trade, political developments, reform, industrial economy, immigration patterns and foreign policy.
The test also has questions about geographic terms, five themes of geography, six elements of geography, spatial thinking, physical systems, physical features, climate, interactions between humans and the environment, ecosystems, environmental problems, human systems, cultures, globalization, migration, political science terms, U.S. government, citizenship, levels of government, economic concepts, market economy, entrepreneurship, economic indicators, personal finance, consumer rights, credit, financial institutions, national and international economy, social science research methods, interdisciplinary perspectives, democratic values and analysis of public policy.
Pass the exam the first time around with help from the MTTC Social Studies Secondary Practice Test. This practice test gives you a glimpse of what to expect in terms of test format and sample questions. It's a great tool to familiarize yourself with the test and determine which areas you can improve upon.
It can be difficult to know which concepts to study. Make studying a breeze with the MTTC Social Studies Secondary Test. It will tailor your studying directly to the test so you don't waste time learning unnecessary topics. This in-depth guide will help you get not only a passing score, but a perfect score.