Many junior high and high schools require students to take a foreign language in order to broaden their horizons and learn about different cultures. Given that the United States has a large Hispanic population, more and more people are studying Spanish in order to communicate better and get more job opportunities. To teach Spanish in a Michigan school, prospective educators must pass the MTTC Spanish Exam.
The MTTC Spanish Test consists of 80 multiple-choice questions and two short-answer items.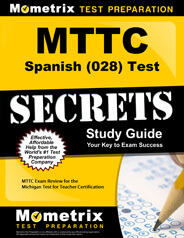 Prepare with our MTTC Spanish Study Guide and Practice Questions. Print or eBook. Guaranteed to raise your score. Get started today!
You will need a score of at least 220 to pass.
The exam covers six subareas:
listening comprehension
reading comprehension
language structures and comparisons
cultural understanding and connections
language acquisition and assessment
writing
The writing portion is 20% of the test score and involves writing several paragraphs in Spanish on a given topic.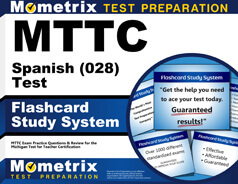 MTTC Spanish Flashcards. Proven MTTC Spanish test flashcards raise your score on the MTTC Spanish test. Guaranteed.
The other subareas cover topics such as interpersonal and presentational modes of communication, applying skills of inference, identifying details, grammar and syntax, similarities and differences between English and Spanish, products and perspectives of Spanish-speaking cultures, practices of daily life, relationship between geography and language, processes of language acquisition, principles of instruction, integration of standards into the curriculum, language assessment, professionalism, and collaboration with families and communities.
The key to a good score is preparation. First, gauge how much you know by taking the MTTC Spanish Practice Test. This handy tool simulates the actual test, so you know what you're getting into come test day. You'll feel less anxious and more confident.
Pass the exam with ease by incorporating the MTTC Spanish Test into your study routine. This study guide will help you plan your course of study and help you practice your test-taking skills. You'll get a comprehensive outline of the test and tips to help you direct your studying habits to certain areas so you spend time studying the concepts you absolutely need to know to succeed.