Art is a great way for people of all ages to express their creativity and release pent-up emotions. Drawing, painting and other forms of art allow people to release stress and anxiety and feel more relaxed. Young children can especially benefit from an art education. To teach various forms of art to students in Michigan schools, you will first need to pass the MTTC Visual Arts Education Exam.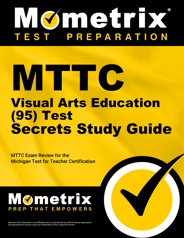 Prepare with our MTTC Visual Arts Education Study Guide and Practice Questions. Print or eBook. Guaranteed to raise your score. Get started today!
The MTTC Visual Arts Education Test follows the same format as most other MTTC tests.
You will be tasked with completing 100 multiple-choice questions.
You are given 2 hours and 30 minutes if you choose the computer-based test.
If you opt for the paper test, you are given 4 hours and 30 minutes.
You will need a score of at least 220 to pass.
The exam covers four subareas: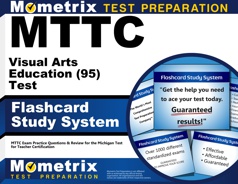 MTTC Visual Arts Education Flashcards. Proven MTTC test flashcards raise your score on the MTTC Visual Arts Education test. Guaranteed.
creating visual art
aesthetic knowledge and critical analysis of art
art in historical and cultural context
art education
You will primarily be tested on your knowledge of the tools, processes and material used to create paintings and graphics. You will also need to know about printmaking, photography, sculptures, product design, ceramics, fibers, metalwork, visual art forms, visual arts presentation, artistic processes, visual arts as communication and visual arts in society and community.
The test also covers the effects of gender and culture on art, components of media literacy, theories of art and design, evaluation of art, works of art from around the world, foundations of art education, artistic development in students, developing and implementing an art curriculum, benefits of art education and relationships among the arts.
While art may seem like an easy test to pass, don't be deceived. Art is much more than putting a pencil to paper. There are many concepts you must know in order to get a good score. You will need to study, so where do you start? A good tool to use is the MTTC Visual Arts Education Practice Test.
The practice test shows you the format to expect and gives examples of the types of questions you can see on the real test. It's a great way to ease those pre-test jitters, plus it's free, so you can't lose.
Don't delay your opportunity to teach in a classroom environment. Consider using the MTTC Visual Arts Education Test to maximize your odds of success. You'll be more likely to pass the first time around because you'll have the tools you need to maximize your study time and feel confident on test day.