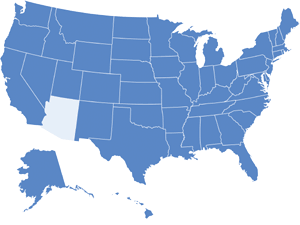 In order to receive a driver's license, as a minor, there are two major obstacles. First, you need a driver's permit. To get one, you will need to study the Arizona Driver License Manual. Then, when you think you are ready to take the written test, it is advisable to take some practice tests first. Even though failure does not have any lasting repercussions, the last thing you want is to fail and then be forced to go back to the MVD again.
Before taking the written test, you need to be at least fifteen-and-a-half, and you need to bring a parent to sign a consent form at the MVD. If your parents are divorced but share joint custody, you will need consent from both of them.
Identification for Permit or License
In order to qualify for a driver's permit in the state of Arizona, you will need either two or three forms of identification. Most teens will be able to use their school ID (it must have a photo to count) and their birth certificate. If you do not have a valid form of photo ID, then you need three identifying documents. You can bring your birth certificate, social security card (ask your parents for these items), and one other authorized form of identification, such as a credit card, bank card, medical insurance ID card, or any number of other types of identification. If, after reading this list, you are unsure what identifications you will be able to use, you should navigate to the Arizona Motor Vehicle Division Identification Requirements Page.
In addition to identification, parents, and the knowledge needed to pass the written test, you will need some money$7, in the form of cash, check, or money order to pay for your instruction permit. Some locations are starting to take credit, so call ahead to see if they will accept a credit card from you or a parent.
As for the driver's license, applicants need to be 18 and ready to take the road test. All of the major points that will be tested can be found in the Arizona Driver's Manual. Looking over the manual for the major skills that will be tested will allow applicants to practice ahead of time and ensure a passing grade.
When applicants who have already received a permit go into the MVD for their Arizona Driver's License, their permit counts as a valid form of ID, so all they need to do is bring in their permit with one other document/card from the list of identifying documents.
Some Advice that Will Keep You from Waiting in Line
Almost everyone over 21 will have at least one horror story to tell about the MVD. You do not want to share the same fate, if you can help it! Here are some of the best ways to avoid long lines and a lot of waiting time.
Being young has its advantages, so capitalize by going to the MVD when everyone else is working. The best days to go are Wednesdays and Thursdays. These lay in the middle of the week, after people fall into their daily rhythm and do not want to be distracted by taking a long lunch break. Second, try to avoid going to an MVD close to the beginning or end of the month, as these tend to be the times of greatest traffic. Attending during regular business hours also helps-9:30 to 11:00 a.m. and 2:00 to 4:00 p.m. are the perfect times to visit the MVD.
For a list of MVD locations, hours, and contact information, consult the Arizona Motor Vehicle Division Driver License Manual and scroll down to page 2.