You must be at least 18 years of age to hold a CDL. Under federal law, you must be a commercial driver at least 21 years of age to drive across state lines, transport hazardous materials or transport interstate freight (e.g. mail) within the state.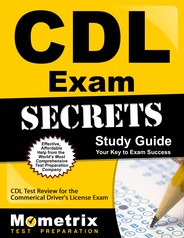 Prepare with our CDL Study Guide and Practice Questions. Print or eBook. Guaranteed to raise your score. Get started today!
If you want to learn to drive commercial motor vehicles, you must get a commercial driver's license instruction permit.
To obtain a CDL instruction permit, you must pass the CDL general knowledge exam and the other knowledge exams for the vehicles that you want to drive.
For example, if you want to learn to operate a tank vehicle and a passenger bus, you must take the general knowledge exam, the tank vehicle exam and the passenger vehicle exam. If you want to learn to drive a school bus, you must take the general knowledge, school bus and passenger vehicle exams.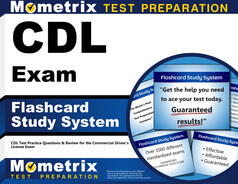 CDL Flashcards. Proven CDL test flashcards raise your score on the CDL test. Guaranteed.
The CDL instruction permit allows you to drive a commercial vehicle of the class and type shown on the permit only when a person licensed to drive the same type of vehicle is with you.
You must hold the CDL instruction permit a minimum of 30 days or show successful completion of C.D.T.S.
You need to get your CDL for the class vehicle you plan to drive plus you may need additional endorsements.