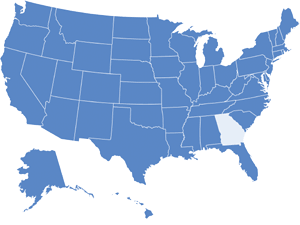 Before a minor can apply for a driver's license in the state of Georgia, he or she will need to have completed some driver training with a learner's permit. Consequently, anyone interested in becoming licensed to drive needs to worry about the learner's permit first.
When Can I Get My Learner's Permit, and How Do I Get It?
In order to qualify for a learner's permit in the state of Georgia, minors must be at least 15 years old. Second, they must have a parent or legal guardian sign for them when their application is delivered to the Department of Driver Services. It helps if the parent or legal guardian has a Georgia Driver's License or ID card because this establishes proof of residency. If the parent does not have a Georgia Driver's License or ID card, the minor must present proof of residence in addition to the other documents required.
What Should I Bring with Me to the Department Of Driver Services when I Apply for My Learner's Permit?
Bring an original birth certificate. If this is not in your or your guardian's possession, then a certified copy of the original will suffice.
Bring a Georgia DDS Certificate of Attendance that is signed by the appropriate personnel and notarized by the school that you attend. Applicants may print out the form from the Georgia Department of Driver Services website. All relevant links will be found at the bottom of this page.
How Much Money Should I Bring to the DDS for My Permit?
Take $10 in cash, money order, or in credit or debit cards.
Will I Be Given a Permit if I Do Not Attend School?
Applicants who have 10 or more unexcused absences from school will not be given their permit. Additionally, they will not be able to receive their license until after they have turned 18.
When Can I Apply for a Driver's License?
After driving with a learner's permit for one year and a day, it is possible to get a driver's license. Additionally, if you are under 17, you must have completed a state-approved Driver's Education class. You will not receive a paper certificate for completing the class, as all state-approved courses submit certifications for their students directly to the Georgia Department of Driver Services website.
Do I Need to Take a Road Test for My License?
Yes, all Georgian drivers will be required to take a road exam at the DDS prior to being given their license. It is advisable to make an appointment ahead of time with the DDS nearest to you to avoid long waits. The vehicle presented for the examination must be in compliance with Georgia law.
What Documentation Do I Need to Take with Me to Apply for a Driver's License?
First, applicants will need the DDS-1 form, signed and certified by the applicant's school. They will also require the signature of a parent on one of two affidavit forms, depending on the type of training the new driver received.
Driver's License/Learner's Permit Links
Driver's License Practice Test -It is highly advisable to take a practice test before walking into the DDS for your Learner's Permit. The fee is non-refundable.
2011 Georgia DDS Driver's Manual
Appointments for Road Tests can be made by calling 678-413-8400, option 4.