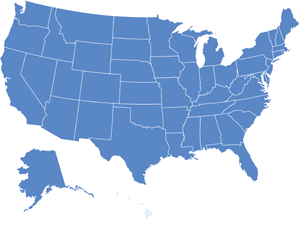 While the Hawaii Department of Transportation has created a user-friendly web page, it has not created an easily-managed system. Consequently, it can be difficult for teens or parents to understand or even find much of the necessary information for obtaining a driver's license.
The following guide has set out to make the entire process easy to understand. All of the information necessary is on one, easy-to-read page, and all of the necessary documentation is here, provided for easy use. We also hope that by providing links (to be found at the bottom of the page) to the various Department of Transportation Driver's License services you may need, that we have made the process more convenient.
How to Get a Driver's License before 17
Residents of Hawaii who are under 17 must first apply for an Instruction Permit. In order to qualify to take a road test, they must hold the Instruction Permit for at least 180 days, and no one under 16 can take the road test.
This means that 16 is the earliest age at which anyone may obtain a driver's license, and in order to apply for it at that time, minors are required to apply for an Instruction Permit as soon as they are eligible-when they are 15 and a half years old.
In order to leave for the DOT on the day one turns 15 and a half, some preparation will be necessary. The state of Hawaii does not make the process very difficult, but there is a written examination, which the applicant must pass in order to be given the permit. The application fee is non-refundable, so it is advisable to study. We have included links to the resources you will need at the bottom of this page.
When you go into the Department of Transportation office, you will only be required to take a United States social security card, as well as a birth certificate. Either or both of these documents can be certified copies of the original documents. In addition to these documents, applicants must bring $2 for the written test, as well as $5 for the Instruction Permit. Applicants will be administered an eye test in addition to the written exam.
Then, within the following 180 days, minors are required to complete a Driver Education Student course, as well as Behind-the-Wheel Student training. Both of these activities must be documented with completion certificates that the student will bring with him or her to the DOT (Forms HDOT DE-20 and HDOT DE-21). With these completed forms, minors can go to the DOT office to take their road test and receive a driver's license. The road test is $8, and each year of licensure costs $5. Road tests are available during the week, from 8 a.m. to 3:30 p.m.
Links for Written and Road Test Preparation
Before taking the written test, some studying is necessary, and most minors find it useful to look at some practice test questions. The state of Hawaii Department of Transportation Motor Safety Office has a list of useful files, including a Driver's Manual and a couple of practice exams, available for download. It may be a good idea to bookmark the link for later retrieval.
To apply for your license, you'll need to contact the proper department in Honolulu, Maui, Kaua'i, or Hawai'i. It is advisable to take one more look at the various requirements for taking the test before scheduling your exam. Scroll down to the bottom of the page to make an appointment.