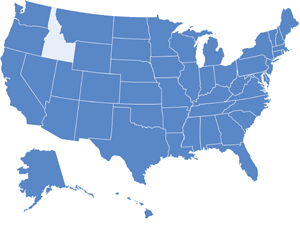 The following is a step-by-step guide for getting a driver's license in the state of Idaho. This regimen is designed to teach anyone how to get a license as soon as possible. Some of the resources readers will need are located at the bottom of the page for convenience. Receiving a driver's license is not difficult in Idaho, and the process is simple. First, to obtain a class D Instruction Permit, you will need to have taken an approved or accredited driver-training program. Approved driver-training programs involve 30 hours of instruction, 6 hours of driver observation, and 6 hours of driving under the supervision of an instructor. You must be 14 years and 6 months old in order to qualify for a driver-training program. Many of these programs are offered through educational institutions, but some are offered privately by businesses.
After you complete the approved driver-training program and pass the knowledge test, you will be given a Driver Training/Supervised Instruction Permit. Once you have the Driver Training/Supervised Instruction Permit, you will be able to begin the Graduated Driver License (GDL) Program.
This permit will allow a minor to drive only under the direct supervision of a licensed driver who is at least 21 years of age. Driving candidates must complete over 50 hours of driving time, with 10 of these hours to be fulfilled at night. The permit normally lasts for six months, but it can take longer if the driver violates a law during the instruction period.
In order to receive the Driver Training/Supervised Instruction Permit, you must provide documentation that validates who you are, as well as how old you are. Lawful presence and age are established with your birth certificate. There are other documents that you can bring in case you do not have a birth certificate; however, in most cases, the birth certificate will be the easiest document to bring. You will also need to bring your social security card, as well as a form of ID with a photo. A junior or senior high school card, or even an annual yearbook, will do.
After the six-month trial period, candidates will be able to schedule a skills test with an authorized Idaho tester. There is a list, available at the DMV, of individuals and companies capable of administering the skills test. You can make a reservation with an individual or company by calling ahead.
Before scheduling the skills test, be sure that the car you intend to use for the test passes the following specifications. First, it is necessary that the vehicle have tires with plenty of tread on them, working lights, brakes, windshield and windshield wipers, working driver window, emergency flashers, and a working passenger door. The skills tester will perform a quick check that these elements of the vehicle are in working order, prior to proceeding to the actual exam.
Then, you will have all the appropriate documentation and experience needed for a driver's license. After receiving the license, you will still operate under some restrictions. Until turning 17, motorists in Idaho are required to limit the number of passengers under 17 to one-no more.
Office Locations, contact information and hours can be found at the following links: 
Office location 
The Idaho Driver's Manual, for test preparation and reference, can be found at the following URL: 
Driver's Manual
A list of fees, including the instructional permit, the knowledge test, skills test, and licenses, can be found at: 
DL Fees
It is under the Driver's License/ID Cards tab