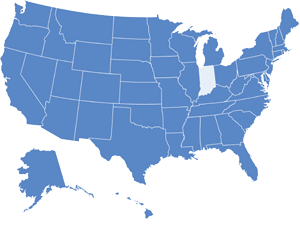 Deciding whether or not to take a driver's education course is probably the most influential choice you can make regarding getting a driver's license in Indiana. For one thing, minors who take a driver's education class can obtain both their learner's permit, as well as their driver's license, earlier than those who do not graduate from a driver's education class. Minors enrolled in a class can apply for a learner's permit at 15, and they can apply for a license at 16 years and 180 days. Those who do not enroll and graduate from a program must wait until they turn 16 to apply for a permit, and they will not have their licenses until 270 days after they turn 16.
Secondly, if graduates of a driver's program pass the driving test, then they will not need to take the test at a Bureau of Motor Vehicles location. Be sure to check that the driver education program participates in the Bureau of Motor Vehicle's driving skills test waiver program. If it does not, the student will need to retake the driving test at the BMV, regardless of his or her performance in the class.
If, however, the driver education course does participate in the test waiver program, the test car will normally be provided by the instructor; additionally, the student will have some time to become accustomed to the instructor's directions. That said, driver's education courses are the more expensive option leaving it up to the discretion of the new driver and his or her family to decide what choice makes the most sense.
Once you qualify for a learner's permit, either with or without driver education enrollment, you will need to go to the Indiana Bureau of Motor Vehicles with a few necessary documents. Depending upon the documents available to you, different types may be necessary, but they will all need to prove four different facts.
Social Security Number-social security card, w-2, 1099 form, or a pay stub
Indiana Residency-you or your parents' utility bills, bank statements, U.S. Postal Service Change of Address Confirmation, etc.
Lawful Status-Birth certificate (original or certified copy)
Identity-Birth certificate (original or certified copy)
This process will not only procure a learner's permit, but it will also provide your credentials for your driver's license. Before going into the BMV and waiting in line, it is advisable to make certain that you have the appropriate documentation to apply for a learner's permit. You can call 888-692-6841 or check online at www.in.gov/bmv/ for more details.
At the BMV, you will also be asked to take a written examination, as well as a vision screening test. The vision screening test will make certain that no restrictions need to be placed on your license. For example, some people may require glasses in order to drive at night. If this is the case, then the BMV will make a note of that visual restriction on the license.
The written examination is comprised of a number of multiple choice questions about driving procedures and laws in the state of Indiana. You can study by reading the Indiana Driver's Manual, which is available for download, chapter by chapter, online.
In addition, minors will require a parental agreement of financial liability, which lawfully holds the parent financially responsible for the minor's actions on the road. If the minor crashes, then the parent will be lawfully compelled to pay damages, as though they had been driving the vehicle.