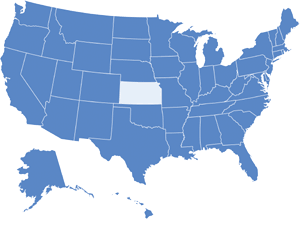 Everyone applying for a driver's license in Kansas since December 29, 2009, is required to enroll in the graduated driver program, in accordance with the Graduated Driver License Law. This law added an additional step to the licensure process. Moving forward, it is necessary to apply and drive with an Instruction Permit, then a Restricted Driver's License, before finally driving with a non-restricted driver's license.
This guide will provide the basic information about each phase of the program in a clear manner, in order to help readers understand what to expect, as well as what their rights are. For more details, find links to relevant Kansas Division of Motor Vehicles resources, such as the Driving Manual, and a list of Driver License locations across the state, at the bottom of this page.
Minors between the ages of 14 and 16 who are inexperienced behind the wheel will need to start their driving education with an Instruction Permit. Permits allow inexperienced drivers the opportunity to drive vehicles under the supervision of a licensed adult who is at least 21 years of age. During this introductory period, the student driver learns procedures, laws, practices, and tips from an experienced individual.
In order to obtain an Instruction Permit, you need to find a local DMV location where you can fill out an application. During the visit, applicants will be required to take a vision screening test, in order to ascertain whether the driver will need glasses during the instruction period, or possibly additional restrictions on his or her license. Additionally, there will be a written examination, which covers the driving manual, found by following the link provided at the end of this page. Students who have taken a driver education course do not need to take the written test. Finally, Instruction Permits require minors to submit parental approval with their applications at the Kansas Division of Motor Vehicles. If a minor is 16 years old, he or she does not need parental approval to obtain an Instruction Permit.
At age 15, once students have held Instruction Permits for one year, they can obtain Restricted Driver's Licenses. This enables minors to drive to school or to work without any supervision. In order to obtain a Restricted License, minors need to have fulfilled a driver education course, as well as 25 hours of supervised driving time. The instructor or parent who has supervised the student driver during this period will need to sign an affidavit, attesting to the student's time behind the wheel.
During the Restricted License period, minors cannot drive with any passengers under the age of 18, and they cannot drive by themselves, except to go to school or work. For any other purposes, even going to the grocery store, minors must be accompanied by a licensed adult. At 16, after taking the driving test at the DMV and presenting a 50-hour affidavit, driving restrictions are raised; the student can drive anywhere between 5 in the morning and 9 at night. Once 17, drivers in the state of Kansas can obtain a non-restricted driver's license.
The Teen Driving Log Affidavit must be presented at the Division of Motor Vehicles in order to obtain a restricted driver's license; it is available to print out at the following URL:
https://www.ksrevenue.org/pdf/teen_driving_log.pdf
To study for the Kansas driver's license knowledge test, study the Kansas Driving Handbook, provided at the following URL: 
https://www.ksrevenue.org/pdf/dlhb.pdf