Overview of the Process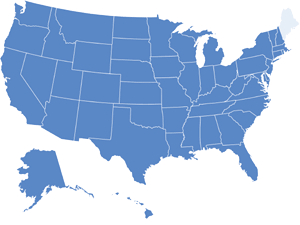 In Maine, obtaining a driver's license is a stair-step process. It begins with the Learner's Permit, as early as age 15. A Learner's Permit allows a new driver to drive under the supervision of an adult over 20 years old, in order to gain the expertise required for the Intermediate License. If no tickets are issued to the new driver during the required time frame, he or she will be given a provisional license. Then, after two years, the provisional status is removed, and the license becomes a regular, unrestricted license.
How Do I Get a Learner's Permit?
First, you will need to enroll in a driver's education course (anyone over 18 does not need to do this). The most convenient way to accomplish this is to ask a school official. Once you have finished this requirement, it is only a matter of gathering together the appropriate documentation and taking the written and visual tests at a local Bureau of Motor Vehicles office. For hours, locations, and contact information, navigate to Locations and Hours on the Maine.gov website.
As for the documentation required during the process, there are fairly recent requirements to prove residence in the state of Maine, in addition to the forms of identification most widely used in the past. This means that you must provide your birth certificate and social security card, as was required previously. However, in addition to these, a utility bill, a mortgage agreement, or some other official document proving your primary residence is located in Maine has also become mandatory. If unsure about whether your form of proof will be adequate for the Bureau of Motor Vehicles, it is advisable to call the location you intend to visit for more information.
Once you have a Learner's Permit, you will be able to drive under the supervision of an adult. New motorists are required to operate a vehicle under supervision for six months, and during this time period the driver must receive at least 35 hours of experience behind the wheel, 5 of which must occur at night. After six months, if you believe you are ready to take the road test, mail in the appropriate form to the nearest testing location. This document should have been provided to you when you received your Learner's Permit.
If successful, motorists obtain the Intermediate License. With an Intermediate License, motorists are free to drive without supervision from 5 a.m. to 12 a.m.; however, they cannot drive with passengers other than direct family members, without an adult over 20 in the vehicle as well.
As long as these conditions are met for 180 days after the Intermediate License is issued, the license will convert to a provisional license. This period is a risky period for new drivers, as any moving violation is cause to have the license suspended for 30 days. Repeated errors incur even longer periods of suspension.
A Note on Tests
Anyone who experiences test anxiety can prepare themselves ahead of time for both the written and road tests. For the written test, be sure to study the Maine Driver's Manual, skimming first, and then covering each section in more detail. Your driver's education course will have a number of other recommendations, which will help your performance on test day. The state of Maine Motorist Handbook and Study Guide is available on the Maine Bureau of Motor Vehicles web site.
As for the road test, the Driver's Manual has a section on the various skills that will be on the exam. You can prepare by carrying out each task repeatedly with a parent, making sure that you perform perfectly before scheduling an exam.