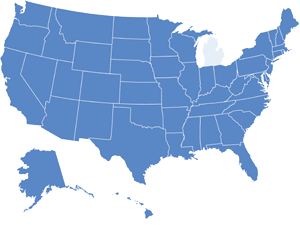 The state of Michigan uses a graduated licensing program for minors. In addition to an explanation of what the requirements are and how the system works, this webpage also presents a number of links to additional resources. If at any point during this article you have a specific question, look to the links at the bottom of this page for an answer to your question.
Here is how the graduated licensing program works. First, minors apply for a permit or submit a level 1 application. Applicants must be at least 14 years and 9 months old. They must also have completed the first segment of a driver education program to be given the Learner's License. In addition, they must provide their social security number with the application and prove U.S. citizenship (usually with a birth certificate). Lastly, a parent must sign the application.
The level one Learner's License allows individuals to drive under the supervision of an adult, which begins the next stage of the licensure process. At this point, prospective drivers begin training on the road, both in class and outside of it. They complete segment two of a driver education program, and they must fulfill a 50-hour training requirement under the supervision of a parent or guardian, outside of class.
In order to become eligible for a level two Intermediate License, prospective drivers must have possessed a Learner's License for at least six months and be at least 16 years old. They, with a parent or guardian, must take their driver education certificate, along with their level one License and proof of United States citizenship, to the Secretary of State Office. Once there, applicants must pass the driving test and the guardian must sign the application, attesting to the 50 hours of driving experience in addition to driver education course curriculum.
The level two License allows minors to drive unsupervised; however, there are some limitations. For example, the level two License does not allow the driver to have more than one passenger under 21 in the car without supervision. The license also does not allow transport from 10 p.m. to 5 a.m. unless for a job.
Opting for an Enhanced Graduated Driver License Program
When applying for the Intermediate Phase of the GDL, applicants may choose to opt into the enhanced GDL program. There are some additional documents and fees required; there are also some distinct advantages to enhanced GDL status. An enhanced GDL allows its owner to re-enter the United States from most access routes without showing a passport.
Applicants need to have a clean driving record, and they need to be able to prove residence in Michigan, United States citizenship (through a birth certificate), a valid social security card, and one additional photo ID. If this last type of identification is not in the ownership of the applicant, the applicant's parent may sign to attest to identity. Full License Status
At 17, students are eligible for a full, unrestricted license. They must have possessed their level two Intermediate License for at least six months, and they must not have received a moving violation within the previous 12 months. This final step will be automatically completed by the Secretary of State Office if all of the stipulations have been fulfilled. If you think you have fulfilled all the requirements but have not received a new level three license, call the Secretary of State for information on your file.
What Every Driver Must Know-The Michigan Driver's Manual
Identification Requirements Checklist
The Driving Skills Test Study Guide
The Guide to Michigan's Graduated Driver Licensing System, for Parents