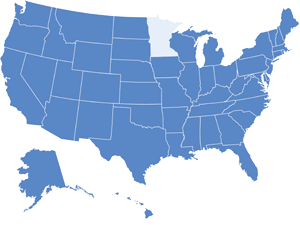 The state of Minnesota requires its teens to undergo the graduated license program. In theory, the program is designed to gradually ease teens into the full range of driver responsibilities and to reduce the number of teen-related traffic accidents. Thus far, it has been shown to be extremely effective in lowering the number of accidents and fatalities.
For new drivers, this program means increased driver training and an extended training period. Before 1999, when graduated driver licensing took effect, one could simply apply for a full operator's license after a brief period of owning a permit. Now, there are more stages and restrictions with which to contend.
Minnesota teens can apply for an Instruction Permit as soon as they turn 15, but they need to take driver's education in order to do so. You can enroll in any state-approved program, but be aware that timing may be important to consider when planning driver's education. You will not be prepared to apply for a permit until you have received 30 hours of classroom instruction. Depending upon how often and for how long the class meets, those 30 hours could take a significant amount of time to complete.
After you have completed the education requirements, go to the most convenient Driver and Vehicle Services location with a parent or guardian. Be sure to bring the appropriate documentation with you, including birth certificate, social security, etc. Your driver's education class should inform you regarding the information the DVS will require.
You will then have the Instruction Permit and be in the first phase of the program. You will be able to drive with the supervision of a licensed adult, in order to complete the road component of your driver's education, as well as the additional 30 hours of real-world training to be completed with a parent, 10 hours of which must be completed at night.
After completing the requirements of the Instruction Permit phase and driving with the permit for six months, you will be ready to apply for a Provisional License and the second phase of the program. When you turn 16, you can return to the Minnesota DVS to take the road test and pass into the third phase of the program.
Plenty of teens fail the road test, so it is not something to be treated lightly. Practice with a parent beforehand. Be sure that the vehicle you bring to the DVS will pass the inspection of the test administrator. The vehicle also needs to have current insurance and registration.
A provisional license will allow you to drive without parental supervision every day of the week from 5 a.m. to midnight. You are also allowed to drive with one passenger, but no more than one for the first six months after the license is issued. For the six months following that, you are allowed up to three passengers at once. If you are caught driving after midnight or with more passengers than are allowed by your license, your license can be suspended; hence, these rules are extremely important to follow. There are some exceptions but these will be covered by your driver's education class.
Once you have held the Provisional License for a year without violations or turn 18, you qualify for the third and final stage of the graduated license program. You graduate with a full license, without any restrictions on passengers or on the times you can drive. For any additional questions or details regarding the graduated driver license program in Minnesota, such as documentation required for a license, fees, or to find the DVS most convenient to you, visit the Minnesota Driver and Vehicle Services webpage, at Here.